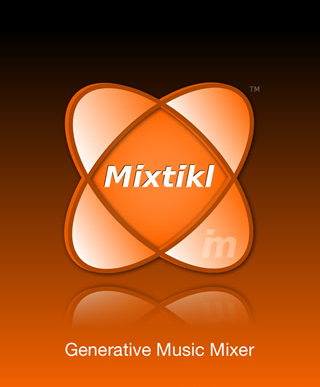 Intermorphic Mixtikl v5.3.5 | 87.5 MB
Mixtikl 5 is a powerful & popular generative music / audio loop mixer & cell sequencer. To get you going it is packed with generative templates of which you can adapt all sounds, fx & rules. You've 12 tracks to play with / arrange & you can even add in your own audio loops (and 17 Audio Loop paks are now free)! Mixtikl 5 includes a flexible polyphonic modular synth with a wide range of chainable sound/ FX units and it gives back to those who experiment, explore and become familiar with it. Record your mixes to audio, MIDI or even tweet/email them.
Generative mixes that are easy to make and sound GREAT
It's fun, easy to use and experiment with, and it can deliver great results – and that's the real test. We have many users who love it and who have said so, and who enjoy the many updates.
If you want to create a cool mix and play along instrument from the many included generative "parts", then simply press a button to create a new random mix. It's as easy as that!
Mixtikl has been continuously updated since first release in 2008, and the regular updates are continuing. It is very much a "live" app being developed by a small team with a passion for it.
There is so much more under the hood…
If you're the kind of person that wants to take things further and to customise mix tempos, roots, scales and arrangements, or wants to explore and learn more about generative music rules and parameters by experimenting with them, or wants to try your hand at building complex modular sound synthesis and FX networks, or even just wants to mash up generative music and custom FX with a load of audio loops you have made in + copied over from other apps** and then record it all – then Mixtikl 5 lets you do all that, too. You can even share content with our Noatikl Generative MIDI System!
Introducing social generative music with the "mixtikl"
Want to share your mixes? You can save your custom creations as "mixtikls" that, if you want to, you can tweet, email & share and they can even include your own short message / haiku / poem, visualizer settings and play-along instrument.
Key features
• A unique 12 track cell-sequencer, mixer, arranger & mix performance screen
• Includes over 380 customisable generative music elements "parts" & 30 audio loop beats + 50 FX presets
• Integral polyphonic MIDI DLS wavetable / modular synth ("Partikl") for Mixtikl sounds / FX:
• Tone Generators (Oscillator, Particle, Dsynth, Wavetable)
• FX units (Chorus, Reverb, Filter, Distortion, ODrive, Delay, EQ, Compressor, Amp)
• FX control units (LFO, Envelope, Amp);
• Editors to create / customise Partikl synth sounds & FX (synth, cell, track, global) networks
• Note sensitive visualiser screen that can display text & allows tap-play
• Message & Display settings screen with many options, including word bank & jumble
• Integral Noatikl generative music engine with editors for customising rules & params
• Auto time stretch & pitch shift Tiklpak content, plus change mix tempo & root settings
• Set individual track volume & pans, global volume & solo / mute tracks
• Play & record (live or mixdown) at up to CD quality (user configurable, device dependent)
• Use your mix recordings (audio/MIDI) royalty free in videos, films, cds etc.
• Audiobus support
---
 Download uploaded
http://uploaded.net/file/lao6fwm0/InMi5.3.5-CHAOS.rar
Download rapidgator
http://rapidgator.net/file/cc301e995b6f3ca13c729809271c74a6/InMi5.3.5-CHAOS.rar.html
Download filefactory
http://www.filefactory.com/file/4qjrnyqay8zp/n/InMi5.3.5-CHAOS.rar
Download 城通网盘
http://www.400gb.com/file/31332578
Download 百度云
http://pan.baidu.com/s/1klOEU
转载请注明:0daytown » Intermorphic Mixtikl v5.3.5