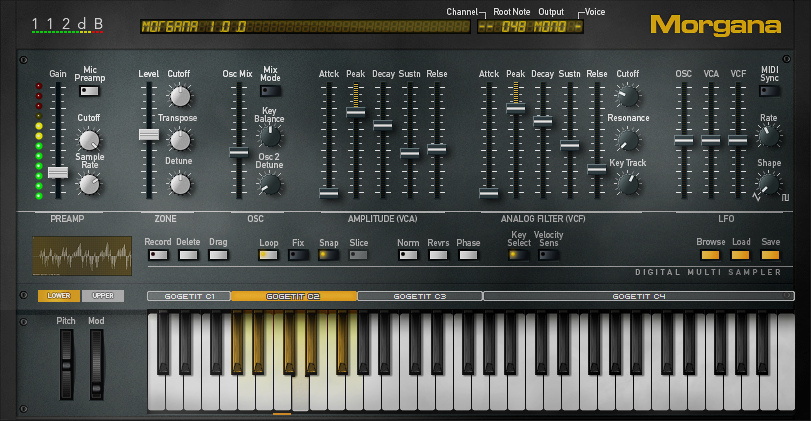 112db Morgana v1.2.7 | 37.5 MB
When sampling technology was in its infancy, samplers lacked the power required for high-quality interpolation and filtering. Analog-digital converters were primitive, and the sounds that went into these machines came out grittier and darker–but also warmer and punchier. The same qualities that degraded the audio from a technical standpoint had the effect of enhancing the audio from an artistic standpoint. But where are these instruments today? Why do samplers nowadays endeavor to produce an exact carbon copy instead of adding their own touch? Whatever happened to character, to samplers that feel as if they belong in the hands of musicians instead of laboratory technicians? We asked ourselves those very questions, and we couldn't come up with any good answers. So we decided to change that.
Enter Morgana.
Morgana is an authentic representation of a vintage digital sampler, designed to be musical rather than accurate while simultaneously free from the clumsy interface or sub-megabyte RAM limitations plagued by old hardware. Morgana doesn't try to boast the most impressive spec sheet, or the most transparent sound. By returning to a simpler architecture, Morgana actually transcends the limitations of typical software samplers, creating an experience that sounds and feels like an actual instrument–one that is inspiring and with a sound all its own.
Morgana is also capable of sampling, either from the host audio inputs or through our proprietary SampLink technology. SampLink allows Morgana to directly sample from any track in a multi-track environment, and even across different hosts, in a simple and no-hassle way.
• 16 voice digital sampler
• Two part multitimbrality
• 8-bit sampling rate
• Variable sample rate from 10.1KHz to 29.41KHz
• Two APDSR envelopes for filter and amplitude
• Two sample oscillators per voice
• 4-pole analog modeled filter per voice with cutoff and resonance controls
• Keytracking generator for filter cutoff
• Relative level, cutoff, transpose, and detune per sample
• Non-destructive input modeling with antialias filter, mic preamp, and gain control
• LFO with MIDI clock sync
• Flexible MIDI learn system
• SampLink technology for full-featured realtime sampling capabilities
• Support for WAVE, AIFF, and ReCycle (.REX/.RX2) sample formats
• Support for different tunings through .SCL tuning files
---
 Download uploaded
Download rapidgator
http://rapidgator.net/file/ff86355002f3ad93eb4d19c9fad0acf7/112dbMo1.2.7-R2R.rar.html
Download filefactory
http://www.filefactory.com/file/w4aztyf9q2z/n/112dbMo1.2.7-R2R.rar
Download 城通网盘
http://www.400gb.com/file/31332572
Download 百度云
http://pan.baidu.com/s/100NVe
转载请注明:0daytown » 112db Morgana v1.2.7