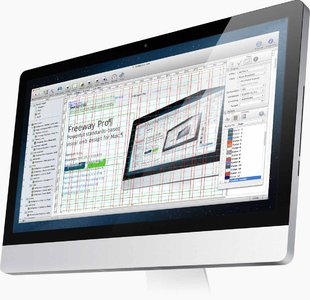 著名的网页制作软件。不需要手工编码,快速和精确的进行设计网页:所见即所显,支持 XHTML,CSS,Unicode和简体中文,经FTP或.Mac上传发表。 
---
Freeway Pro 6.1.0 | Mac Os X | 57 MB
Don't get bogged down with code
You may find web design mysterious, but this shouldn't stop you from creating killer websites. By allowing you to focus on the design rather than the code, Freeway Pro eases you in to the web design world gently. Once you've earned your web design wings, you can continue to use Freeway Pro the way you know how, or start exploring the endless possibilities available by adding your markup to your sites.
Just the tool for the job
Whether you're creating multiple websites for yourself or your clients, or just want complete control over the design and layout of your own website, Freeway Pro has everything you need to create stunning highly-functional websites quickly and efficiently.
Hello, old friend
Draw items and move them around freely, store items on pasteboards, use master pages for common content, create and manage reusable styles. Sound familiar? 
If you've done any page-layout work before, using Freeway will feel like putting on a favorite old glove. If not, don't worry – you'll pick it up in no time, and our support team is only an email away.
Lightning fast website creation and prototyping
Because it's so quick and easy to create website layouts in Freeway Pro, it's perfect for quickly sketching out prototype sites for you or your clients on-the-fly. Just throw items on pages, label them up or color code them, and publish to preview them in any browser on your machine.
Limitless possibilities
With the power of Actions – Freeway Pro's plugin architecture – and the ability to add custom code to your sites, there's no limit to what you can do. Choose from a host of content management systems (CMSs), use web fonts in your designs, add content carousels, create sticky elements, smooth-scrolling, and so much more.
Build sites for all devices
With mobile and tablet specific features, Freeway Pro lets you create sites that look amazing on any device.
Requires: Mac OS X 10.6+
Home Page: http://www.softpress.com/freeway-pro/
转载请注明:0daytown » Freeway Pro 6.1.0 MacOsX