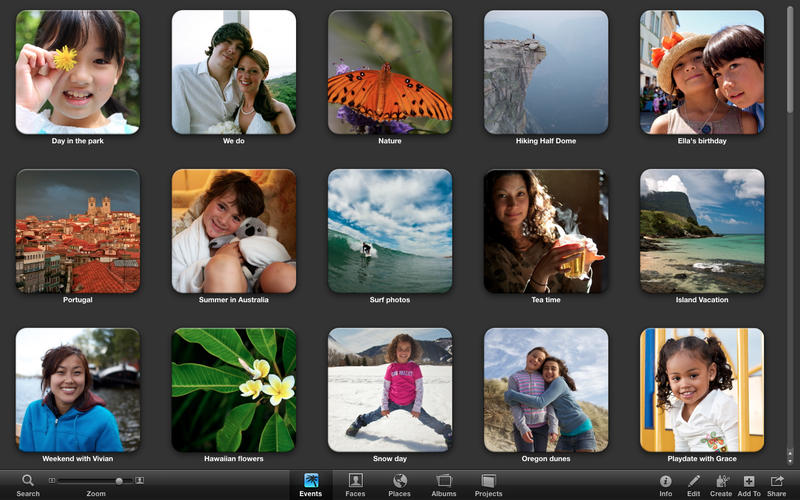 iPhoto 提供了 3 种极其简便的方式,帮你组织和管理 Mac 中成千上万的照片。我们将其称作面孔、地点和事件,它们能在你的照片库中发挥神奇的威力。
再现熟悉的面孔
"面孔"功能可帮你按照片中的人物为照片库分类。它会自动检测并辨别照片中的面孔。iPhoto 使用脸部检测来辨别照片中的人物,再通过脸部识别找到与之特征相符的拍摄对象,让你很方便地为照片命名并帮你找到想找的人。点击"面孔"按钮,你会看到你命名过的人物快照,被显示在屏幕右边的布告板上。iPhoto 会建议一组特征大致相符的人像,你只需点击确认。你可使用全新的面孔查找视图,快速找到照片中尚未命名的人物。为面孔命名或将面孔与原有姓名对应,然后将它们同步到 iPad 或 iPhone,以便随身携带。
回味每个地点的精彩
再也不用盯着照片琢磨,"这是在哪里拍的?"有了 iPhoto 中的地点功能,你可使用带 GPS 功能的相机或 iPhone 提供的数据,按拍摄地点搜索照片并为其分类。相机没有 GPS 功能?你仍可通过添加自己的位置信息来使用地点功能:一旦开始输入地点信息,iPhoto 就会立即提供可供选择的地点列表,包括埃菲尔铁塔或帝国大厦等兴趣点。 iPhoto 还采用反向地理编码来转换照片的位置数据(如经度和纬度坐标),便于为其命名。想为大量照片添加拍摄地点?选择事件、相簿或拍摄地点相同的一组照片,iPhoto 可一次性为这一组照片添加位置信息。
铭记美好事件
iPhoto 可按事件自动管理照片,让你不会将好友庆祝生日的照片和她欢庆新年的照片混淆在一起。当你接入相机或插入 SD 卡,iPhoto 会按拍摄日期为照片分类。这对摄影发烧友或爱拖沓者都很方便。如果你愿意,可将多个事件合并为一个大事件。只要将一个事件拖放到另一事件上即可。你还可为每个事件取个合适的名字,如 "Mark 的独奏会" 或 "Riley 的毕业典礼",便于以后轻松查找。有了 iCloud,iPhoto 可以为你导入"照片流"中的图片,并将它们作为"事件"进行整理。
---
Apple iPhoto'11 v.9.4.6 Pre-release | Mac Os X | 1 GB
iPhoto '11 gets a new look with stunning full-screen views for Events, Faces, Places, and Albums that let you take advantage of every inch of your Mac display. iPhoto also offers new ways to share and showcase your photos. You can upload your photos to your Facebook Wall and even view friends' comments right in iPhoto. Turn your email into something really special with ten Apple-designed photo mail templates. iPhoto '11 works with Photo Stream, so the photos you take on your iOS devices automatically appear in iPhoto, and you can share selected photos with other people. Add movement and music to your photos with one of 12 dynamic slideshow themes. iPhoto '11 introduces a new way to create professional-quality photo books quickly and easily. And new letterpress cards let you combine your photos and text with elegant imprinted designs.
Photo Stream
•View and automatically import recent photos taken on your iOS devices
•Automatically send newly-imported photos to all your iOS devices
•Subscribe to other people's shared photo streams, or create your own streams to share with friends and family
•View and add comments and "likes" to photos in any shared stream
New full-screen modes
• Events automatically organizes photos based on when you took them
• Faces uses face detection and recognition to organize photos by people
• Places displays your photos on an interactive map
• Albums organizes your favorite pictures in iPad-style photo stacks 
• Bookshelf displays all your book, card, and calendar projects
Facebook enhancements
• Albums view displays all your Facebook photo albums
• View friends' photo comments right in iPhoto and post a comment back
• Post to existing Facebook photo albums and to your Wall with a comment
• Facebook sharing history
• Support for multiple accounts
Emailing photos
• Ten Apple-designed themes, including Announcement, Cardstock, and Postcard
• Support for all popular mail services
• Attach photos with one click
• Email sharing history
New slideshows
• Six new themes (12 total), including Holiday Mobile, Reflections, and Places
• Places slideshow theme uses location data in your photos
• Themes include instantly recognizable music
• Export directly to iTunes for syncing
Big leap in photo books
• Dynamic, carousel-based theme browser
• Theme preview with your photos
• Change book type, size and color with a click
• "Bird's-eye" All Pages view
• Smarter Autoflow with date/time, ratings, and face detection
• Two-page, full-bleed spreads
Letterpress cards
• Beautiful, debossed designs imprinted on premium paper
• 31 themes complete with matching envelopes
• Personalize with your photos and text
• Available for a variety of occasions including births, weddings, and the holidays
Requirements: 
OS X 10.9 Mavericks
iPhoto version 8.x and later
iPHOTO DEVELOPER PREVIEW
OS X Mavericks Developer Preview 5 includes a pre-release version of iPhoto
•Opening your Photo Library with this pre-release version of iPhoto will permanently upgrade it and make it incompatible with current versions of iPhoto and Aperture.
•This pre-release version of iPhoto will only upgrade libraries from iPhoto version 8.x and later.
•Photos with GPS locations will be marked with pins on the map in Places. However, searching for locations using the Places map may return only partial results, or may not display any results.
•The Help system is not fully enabled. Searches using the Help Center will return limited results.
•Localization is not yet complete, so some text may not be displayed correctly in certain languages.
•Photo Stream updates will not be registered to your Mac after installing OS X Developer Preview 5. To enable Photo Stream, you can either restart your Mac or launch iPhoto with the library connected to the Photo Stream.
•Make sure all photos that appear in My Photo Stream have been imported into your iPhoto Library before using this pre-release version of iPhoto.
•Attempting to use My Photo Stream or iCloud Photo Sharing with current versions of iPhoto and Aperture after using these features with this pre-release version of iPhoto may cause some streamed photos or data to be displayed incorrectly. Disabling and re-enabling Photo Stream on your Mac will resolve the issue.
IMPORTANT NOTE:
THIS IS PRE-RELEASE, TIME-LIMITED SOFTWARE MEANT FOR EVALUATION AND DEVELOPMENT PURPOSES ONLY.
THIS SOFTWARE SHOULD NOT BE USED IN A COMMERCIAL OPERATING ENVIRONMENT OR WITH IMPORTANT DATA.
BEFORE INSTALLING THIS APPLE SOFTWARE, YOU SHOULD BACK UP ALL OF YOUR DATA AND REGULARLY BACK UP DATA
WHILE USING THIS APPLE SOFTWARE.
OS X Mavericks Developer Preview 5 includes a pre-release version of iPhoto for the purpose of testing compatibility with Mavericks.
This beta includes updates and/or improvements to location tagging and other changes.
---
Download filefactory
http://www.filefactory.com/file/6lga7h5csxw9/n/iP11PR.part1.rar
http://www.filefactory.com/file/6yl41z8attnl/n/iP11PR.part2.rar
Download uploaded
http://uploaded.net/file/1eur6rm4/iP11PR.part2.rar
http://uploaded.net/file/429gcgz1/iP11PR.part1.rar
Download 百度云
你是VIP 1个月(1 month)赞助会员,