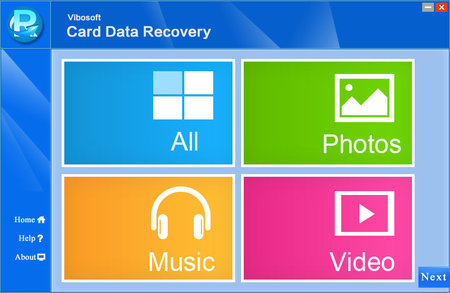 通过分析数据的调查,已经有相当多的用户喜欢使用记忆卡存储和管理他们的工作数据,虽然记忆卡为我们提供了很多方便,但它不是万能的,毕竟,有价值的信息很容易丢失,在面临数据丢失,您应该考虑什么方式将有效恢复失去的数据。 Vibosoft Card Data Recovery将毫无疑问您最佳的选择。 独特的特性的数据重建将使它快速容易恢复丢失数据,支持记忆卡不同的制造商。 
---
Vibosoft Card Data Recovery 3.0.0.1 | 1.7 MB
By analyzing the data of investigating, there have been quite a number of users prefer using the memory card to store and manage their work data, although memory card provides us with lots of convenience, but it is not omnipotent, After all, valuable information is easily lost, In the face of data loss, you should ponder what way will be effective to restore lost data from card. Vibosoft Card Data Recovery will be no doubt your best choice. The unique feature of Data rebuilding will make it quick easy to deeply recover lost data from the memory card of different manufacturers.
Save Valuable Data from Formatted, Crashed or inaccessible Card 
Recover Data from Formatted and Crashed Cards
When you impetuously formatted Memory cards but you regretted immediately and would have done anything to have taken the data back, you know it was futile, However, Vibosoft Card Data Recovery tool can do that, it can correctly recognize the logical structure of the lost data, after complex data matching, the lost data will be extracted to normal sectors for further processing.
Robustly Restore Lost Data from inaccessible Cards
According to investigation statistics that the main reason is the infected by virus or software fault of its owns, you've probably experienced that it show nothing when you access card, it will pop-up a dialog box saying: Need to Format. Another odd appearance is you're sure you have stored lots of files, but it shows zero bytes when you check the capacity of card. Vibosoft Data Recovery for Card program can deeply scan and effectively restore lost files from your
Recover from Various Cards that Made by Different Manufacturers 
There are many unknown faults may result in loss of data that stored in your Storage card, such as accidentally deleted, card formatted, card crashed, infected by virus and inaccessible or you can access it but no data, this would be a major headache. But Vibosoft Card Recovery software can quickly scan lost data and restore it to the specified directory.
Why it has the Ability to Read Various Memory Cards 
Some common card recovery tool can only read a few memory cards. But this program will exceed your expectations, it has embedded 60+ flash file systems from different manufacturers, it means that it can read and scan the all file structures from different memory cards. Scanning is utmost importance; this program can do it in a extreme stable statue.
What Memory Cards it Support? 
Excellent performance make it possible to recover data from nearly all cards: CompactFlash, Memory Stick Duo, Memory Stick Pro, Memory Stick Pro Duo, SD Card, mini-SD, micro-SD, MultiMediaCard MMC, SmartMedia, xD Picture Card, USB drive, flash drive and more…
Real-time Preview and Support Recovery from Hard Drive 
For practical purposes and hommization, the latest updates have embedded the real-time preview feature that makes it easy to recover your desired files. The batch recovery feature will save a lot of your time. It perfectly supports recovering files from your hard drive with the same effect. It used the depth recovery technology; it may take you 5 minutes to finish the scan.
Real-time Preview the Scanned Files
Once the scan finished, you can preview the found file and select the one what you want, like photos (JPEG, JPG, PNG, TIFF and PNG), you can choose multiple files and recover at a time.
You can Also Recover from Hard Drive
This program not only has the outstanding performance for Memory Cards, but in order to meet user's different demands, it has been added new data Algorithmic so that it can also read and scan the files from windows hard drive. Now you can freely recover files from local hard drive.
What Storage Cards, Camera, USB does it Support? 
Support Storage Cards: 
Secure Digital card, CF card, SD card, SDHC, miniSD, MicroSD, card,SmartMedia, Flash card, MicroDrive,, xD Picture, MicroSD, Memory Stick, Memory Stick Pro, Duo, Pro-HG, XC, Micro(M2), MultiMedia card, MMC cad, phone memory card, MicroSDHC card, Android phone. 
Support Camera Brands: 
Nikon, SamSung Canon, Sony, Kodak, FujiFilm, Casio, Olympus, Panasonic, Fuji, Konica-Minolta, HP, Agfa, NEC, Imation, Sanyo, Epson, IBM, Goldstar, LG, SHARP, Kyocera, Phillips, Toshiba, Chinon, Ricoh, Pentax, Kinon, VerbatimLumix, Polaroid, Sigma and almost all digital camera in the market.
Support USB Brands: 
It support 60+ USB drive brands: SanDisk, Kingston, Transcend, Corsair, HP, Sony Moser Baer, CD-R King, Lexar, Crucial, A-Data, LaCie, PQI, Silicon Power, Kingmax and more …
Home Page – http://www.vibosoft.com/
---
Download filefactory
http://www.filefactory.com/file/wkcppu8nwmh/n/Vibosoft.Card.Data.Recovery.v3.0.0.1.Incl.Keygen-TSZ.rar
Download uploaded
http://uploaded.net/file/ugg57tde/Vibosoft.Card.Data.Recovery.v3.0.0.1.Incl.Keygen-TSZ.rar
Download 城通网盘
http://www.400gb.com/file/26920230
Download 百度云
http://pan.baidu.com/share/link?shareid=3095140231&uk=758526017
转载请注明:0daytown » Vibosoft Card Data Recovery 3.0.0.1 记忆卡数据恢复