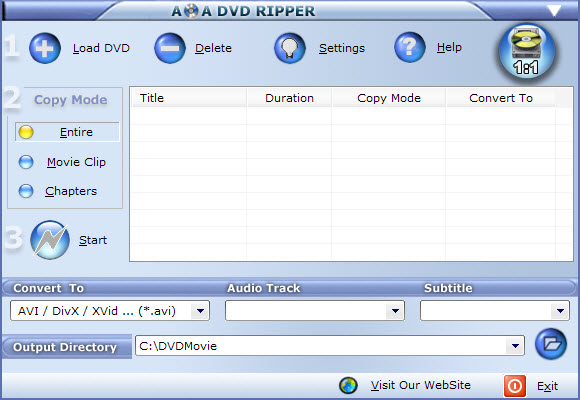 AoA DVD Ripper 是一款DVD剥取软件。该软件使用户可以迅速轻松的把自己的DVD影片拷贝到硬盘上并以高画质的AVI(DivX, XviD…), VCD (MPEG-1)和SVCD(MPEG-2)格式保存,相同品质,仅占用1/10 空间,还能从DVD中提取出电影原声声轨,另外,还可以:选择整个DVD或某些帧序列,电影的片断进行备份;选择字幕或音轨;批量转换;极速拷贝;自定义设置等。
主要功能:
-转换DVD为AVI/DivX/XVid/MPEG4/VCD/(MPEG1)/SVCD(MPEG2); 
-拷贝DVD为Divx格式,画质相同,而大小仅原来的1/10; 
-3种复制模式:整盘,章节或片段; 
-操作步骤仅3步; 
-支持批量转换; 
-超快拷贝速度; 
-完成后自动关机; 
-拷贝时播放; 
-多项自定义设置
---
AoA DVD Ripper 5.5.7 | 6.8 Mb
A fast and easy way to rip and convert your DVDs to play on the web, your computer or your portable devices without disc, anytime, anywhere! It copies in high quality AVI (DivX, XviD…), MPEG, MP4, iPod, iPhone, iPad, Kindle Fire, Android Mobile, WMV, Zune, 3GP (Cell Phone), PSP and Flash Video (*.flv) formats. AoA DVD RIPPER makes it simple to rip any parts of a DVD that you want. It also extracts audio tracks from all kinds of DVD discs and save them as WAV.
3 DVD Copy Modes
It can be used to copy any portion of a DVD or the entire DVD content.
– Entire Movie – Copy the entire DVD movie!
– Movie Clip – Extract the selected clip or scene from a DVD (How to? ).
– Chapters – Copy just the selected chapters of a DVD.
Output Various Popular Formats
You don't need to be an expert to get the quality you want as it also provides many well-configured quality presets (frame rate, audio channel, sample rate, etc.) for every output format to meet your professional or casual needs.
– Convert DVD to AVI (DivX, XviD…). The DVD copied and compressed by DivX or XviD is of high quality and takes up less room on hard drive.
– Convert DVD to WMV .
– Convert DVD to MPEG1/VCD PAL/NTSC.
– Convert DVD to MPEG2/SVCD PAL/NTSC.
– Convert DVD to MP4
– Convert DVD to PSP.
– Convert DVD to Flash (DVD to FLV) so that you can deliver movies over the Internet.
– Convert DVD to 3GP (Cell Phone) . 
– Convert DVD to WAV – Extract audio tracks from DVD movies .
Secure your DVD collection.
Incredible Output Quality & Extremely Fast Copy Speed
Batch Conversion
If you have a collection of IFO files to copy, you can transform them quickly in batch mode.
More Easy Settings You Can Customize…
– Specify different output format for each task.
– Rename output movie title.
– For multilanguage DVD discs, you can specify the ripping settings of both audio and subtitle in different languages. 
– Make the output size fit in a 74-Minute/80-Minute CD.
– Play back while ripping, so that you can see which part of the movie is being processed.
– Disable audio/subtitle.
– Synchronize video and audio – no skipped or lost frames during conversion.
– Deinterlace the video for better view. 
– Automatically shut down the computer when done.
Home Page – http://www.aoamedia.com/dvd_ripper.htm
---
Download filefactory
http://www.filefactory.com/file/6d87r5wgwia7/n/Aoa_DVD_Ripper_5.5.7.rar
Download uploaded
http://uploaded.net/file/anh96g09/Aoa_DVD_Ripper_5.5.7.rar
Download 城通网盘
http://www.400gb.com/file/26920226
Download 百度云
http://pan.baidu.com/share/link?shareid=3150067421&uk=758526017
转载请注明:0daytown » AoA DVD Ripper 5.5.7