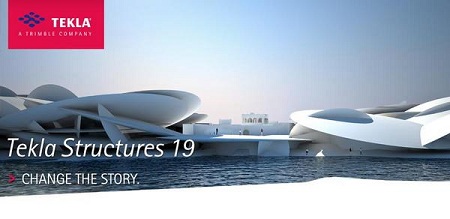 Tekla Structures是Tekla公司出品的钢结构详图设计软件。Tekla Structures的功能包括3D 实体结构模型与结构分析完全整合、3D 钢结构细部设计、3D钢筋混凝土设计、专案管理、自动 Shop Drawing、BOM 表自动产生系统。
3D模型包含了设计、制造、构装的全部资讯需求,所有的图面与报告完全整合在模型中产生一致的输出文件,与以前的设计文件使用的系统相较,Tekla Structures可以获得更高的效率与更好的结果,让设计者可以在更短的时间内做出更正确的设计。Tekla Structures有效地控制整个结构设计的流程,设计资讯的管理透过共享的3D介面得到提升。
Tekla Structures 完整深化设计是一种无所不包的配置,囊括了每个细部设计专业所用的模块。 用户可以创建钢结构和混凝土结构的三维模型,然后生成制造和架设阶段使用的输出数据。
---
Tekla Structures v19.0 SR1 (x86/x64) | 1.35 GB
Tekla Structures software is a building information modeling (BIM), which allows you to create accurate, detailed, easy to construct 3D models from any material and any complexity and manage them. 
Models Tekla Structures can be used throughout the construction process from design to fabrication, erection and construction management.
Tekla Structures – this is one product available in several configurations that provide specialized functionality to meet the needs of certain segments of the construction industry.
Tekla Structures can be used with other existing applications, or solely as a platform to develop their own workflows. Its open platform supports interoperability and standardization. 
Tekla Structures links with various systems through Tekla Open API ™ application programming interface that is implemented using Microsoft ®. NET. Example, Tekla Structures supports the following standard formats: IFC, CIS / 2, SDNF and DSTV. Tekla Structures supports proprietary formats such as DWG, DXF and DGN.
Home Page : http://www.tekla.com/
---
Download 百度云
你是VIP 1个月(1 month)赞助会员,