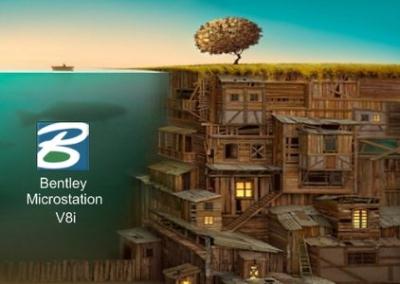 Bentley announces the release of MicroStation V8i (SELECTseries 3) Update 1, in addition to the extensive improvements that were introduced in the initial release of MicroStation V8i (SELECTseries 3) this update includes important enhancements and fixes that will be useful to all MicroStation users. 
MicroStation is the worlds leading information modeling environment explicitly for the architecture, engineering, construction, and operation of all infrastructure types including utility systems, roads and rail, bridges, buildings, communications networks, water and wastewater networks, process plants, mining, and more. MicroStation can be used either as a software application or as a technology platform. 
New capabilities in MicroStation V8i (SELECTseries 3) Update 1 include: 
– Support for the Windows 8 operating system 
– Autodesk RealDWG 2013 support 
– An updated, higher performing Luxology rendering engine 
– New and enhanced API"s for Dynamic Views, EC Framework, and Solids Modeling 
– A selection of resolved issues that have been requested via the Service Ticket Manager 
About Bentley Systems, Incorporated 
Bentley is the global leader dedicated to providing architects, engineers, geospatial professionals, constructors, and owner-operators with comprehensive software solutions for sustaining infrastructure. Bentley Systems applies information mobility to improve asset performance by leveraging information modeling through integrated projects for intelligent infrastructure. Its solutions encompass the MicroStation platform for infrastructure design and modeling, the ProjectWise platform for infrastructure project team collaboration and work sharing, and the AssetWise platform for infrastructure asset operations – all supporting a broad portfolio of interoperable applications and complemented by worldwide professional services. Founded in 1984, Bentley has more than 3,000 colleagues in 50 countries, more than 500 million in annual revenues, and since 2003 has invested more than 1 billion in research, development, and acquisitions. 
Bentley MicroStation V8i (SELECTSeries 3) 08.11.09.397 | 778.1 mb
Name: Bentley MicroStation V8i (SELECTSeries 3) 
Version: 08.11.09.397 
Home: www.bentley.com 
Interface: english 
OS: Windows XP / Vista / Seven 
Size: 778.1 mb
转载请注明:0daytown » Bentley MicroStation V8i (SELECTSeries 3) 08.11.09.397