注,这是升级补丁,你要先装 MasterCAM X7 v16.0.5.5!
NOTE: Requires pre MasterCAM X7 v16.0.5.5!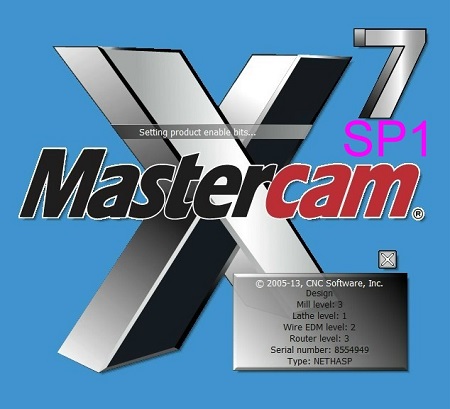 MasterCAM X7 SP1 Build 16.0.6.2 Update x86 x64-SSQ | 1.25GB
Developed by CNC Software, Inc., Mastercam is Windows-based CAD/CAM software for 2- through 5-axis routing, milling and turning, 2- and 4-axis wire EDM, 2D and 3D design, surface and solid modeling, artistic relief cutting, and Swiss machining. The most powerful machining software yet – Mastercam X7, introduces many significant new capabilities, including the new Mill-Turn product and much more. 
Mastercam Blade Expert
Blade Expert is a custom application designed to generate toolpaths to cut multi-bladed parts. Blade Expert will cut multi-split impellers, propellers, turbines, and more. The toolpaths first remove the material from between the blades. Next, they finish the blades and fillets, and then finish up with the floor. Blade Expert has a clear, precise user interface which follows the consistent flow of all existing 5-axis toolpaths. The end result is a smooth toolpath, precise finish, and a dramatic reduction in programming and cycle time.
New Mastercam Mill-Turn
Mill-Turn product makes machining on today's high-powered turning centers and full-function machining centers simpler and easier than ever before. Mastercam Mill-Turn streamlines the programming process with intelligent job setups that are keyed to the exact machine in your shop. Intelligent work plane selection makes it easy to select the proper spindle and turret, and program your part with Mastercam's proven milling and lathe toolpaths.
Latest Mastercam X7 for SolidWorks package, which introduces new partnerships and significant new capabilities, including Lathe support, workflow improvements, the new 3D HST Project toolpath, and so much more.
– Lathe Support
Mastercam X7 for SolidWorks introduces many of Mastercam Lathe's toolpaths. A few included are several types of roughing toolpaths to quickly remove large amounts of stocks; finish toolpaths to follow the contour of chained geometry; groove toolpaths for machining indented or recessed areas; our new Dynamic Rough toolpath is designed for hard materials; and Plunge Turn is designed for special plunge turn tools only (specifically the ISCAR plunge and turn inserts).
– ISCAR Partnership
Mastercam has been working with ISCAR on technology designed specifically to run ISCAR's latest tools. The joint partnership creates more consistent tool loads, reduces tool wear, and makes the most of your tooling investment. Stop by booth #123 to discuss your needs with a Mastercam and ISCAR representative, and find out how you can receive a free ISCAR cutting tool.
– Tool Manager
Mastercam for SolidWorks' new Tool Manager provides a whole new way to organize and create your tooling. It offers a lot of power and flexibility for all your mill tools. The Tool Manager has been designed from the ground up as a flexible and efficient way to manage tools and tool holding components and to create tool assemblies that can be used in Mastercam for SolidWorks. It also integrates work material and cut parameter data so that you can take advantage of a manufacturer's cutting recommendations.
Additional features available in Mastercam X7 for SolidWorks are:
– New 3D HST Project Toolpath which projects either geometry or a toolpath from an earlier operation onto surfaces.
– A new editor, Code Expert, supports the new MP.NET posting language, legacy MP, NC code, and VB script. It includes completely configurable keyword highlighting, AutoComplete, prebuilt code snippets, outlining, and bookmarks.
– 5-axis Oscillating tool motion improves your tool life by not always machining with the same area of the tool.
– Trim to Stock function for Classic multiaxis toolpaths automatically modifies your multiaxis toolpath to reduce air cutting.
– Backplot and Verify utilities are now in a single easy to use interface which offers a more efficient workflow, better analysis tools, and more comprehensive toolpath support.
– And so much more.
NOTE: Requires pre MasterCAM X7 v16.0.5.5!
转载请注明:0daytown » MasterCAM X7 SP1 Build 16.0.6.2 Update x86 x64 升级补丁