一个图形文件查看、定位和组织程序,你可以方便地对图形、Clip-art 文件、字体和动画进行查找和维护操作。它为每个文件建立一个小的图形,你可以用它浏览、查看、编辑、修剪、启动外部编辑器以及把图像复制到剪贴板,你还可以把文件拖放到不同的目录。 ThumbsPlus 还可以对你选定的文件进行幻灯播放以及安装位图文件作为 Windows 墙纸。此外,它还可以对图形文件进行打印和转换,它支持大部分流行的文件格式。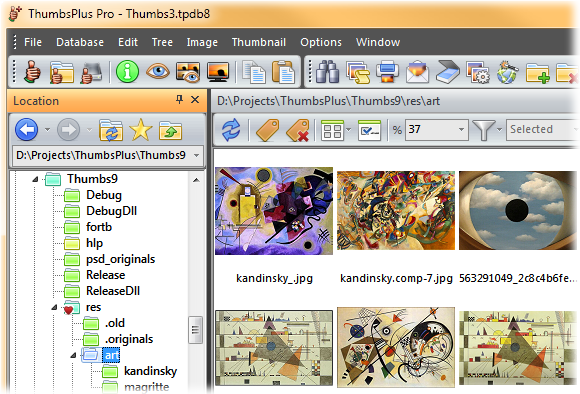 ---
ThumbsPlus Pro 9.0 Build 3926 | 36.4 Mb
ThumbsPlus is a graphic file viewer, locator and organizer that simplifies the process of finding and maintaining graphics, clip-art files, fonts and animations. It displays an image (thumbnail view) of each file. You can use ThumbsPlus to browse, view, edit, crop, launch external editors, and copy images to the clipboard. You can use drag-and-drop to organize graphics files by moving them to appropriate folders. ThumbsPlus will also create a slide show from selected graphics, and install bitmap files as Windows wallpaper.
New features 
Facebook
You can use ThumbsPlus to log in to your Facebook account, where you can browse and update your photo albums, and even thumbnail and view your friends' albums and photos.
Python
There are many improvements and additions to the Python scripting capabilities. We're working on sample scripts that will be included with version 9, and will announce them on the forums as they become available.
Several of the new features in ThumbsPlus 9 depend on Python (including Facebook access),, and in the future we will be moving more and more high-level functions to Python. Of course, the core image processing, database, and many other internal functions will remain written in C++ and C (and even a bit of assembly language for some important speed optimizations).
We're looking forward to see what kinds of functions our users can contribute as well!
Home Page – http://www.cerious.com