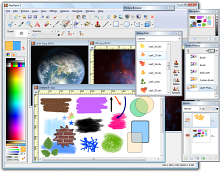 NeoPaint提供了点阵绘图、图像抓取、影像处理、及GIF动画制作等四大功能,使用者无需在找寻其它软件,只要用它就可以完成大多数的影像处理工作。
NeoPaint 5.1.0 | 21.1 Mb
NeoPaint is a full featured artist and photographer's studio that's easy-to-learn, powerful and affordable! It's simple enough for beginners, yet packed with powerful features and advanced tools that power users will love. NeoPaint makes it easy for business and home users to touch up photographs and create great looking graphics for desktop publishing, presentations, and the Internet!
Some of NeoPaint's many powerful features include: support for popular image formats like JPEG, JPEG 2000, GIF, PCX, TIFF, BMP, ICO, CUR, PSD, PNG and numerous RAW formats; integrated support for scanners and digital cameras; professional quality output to any Windows compatible printer; multiple undo levels; layers; alpha channel transparency; dozens of special effects and textures; gradients; custom paint brushes; photo retouch and color correction tools; high quality color and format conversion; levels/histogram adjustment; masking; red-eye removal; tooth whitening; cloning; Stamp Pad; 3D objects; color separation; Picture Browser with file management tools; built-in Screen Capture; and dozens of other tools and options. NeoPaint also includes some fun natural media tools like charcoal, crayon, chalk, watercolor, fountain pen and more. You can even create your own custom paint brushes.
Photographer's will appreciate NeoPaint's many photo-retouch features including red-eye removal, tooth whitening, cloning, interactive cropping, color balance, gamma correction, brightness/contrast, hue/saturation/luminosity, levels/histogram and curves.
Creating transparent
32-bit images can often be a complicated process, but NeoPaint's excellent alpha channel handling makes the process straightforward and painless. In case you're wondering, an alpha channel is a special mask used to identify which portions of a picture should be transparent (see through) and which portions should be opaque (solid).
NeoPaint's integrated screen capture utility, NeoGrab, is an extremely useful tool for creating manuals, training materials, newsletters, websites and more. Captured images are automatically transferred to NeoPaint for editing, cropping, saving, etc.
In addition, NeoPaint includes built-in tools for creating and editing Animated GIFs, and a built-in Icon/Cursor Editor for creating and editing multi-resolution icons and cursors. Unlike some basic stand-alone GIF animation utilities and icon editors, NeoPaint's integrated editor provides you with complete access to a full range of powerful painting and editing tools. NeoPaint can also be used to create and edit NeoBook Cartoon (CAR) files.
Home Page – http://www.neosoftware.com
转载请注明:0daytown » NeoPaint 5.1.0 图像处理