Screenium目前支持即时切换多个摄像头,连接USB和FireWire ,并完全支持内部iSights以及所有QuickTime兼容的外部摄像头。捕捉屏幕上的一切图片,制作自己的声音电影。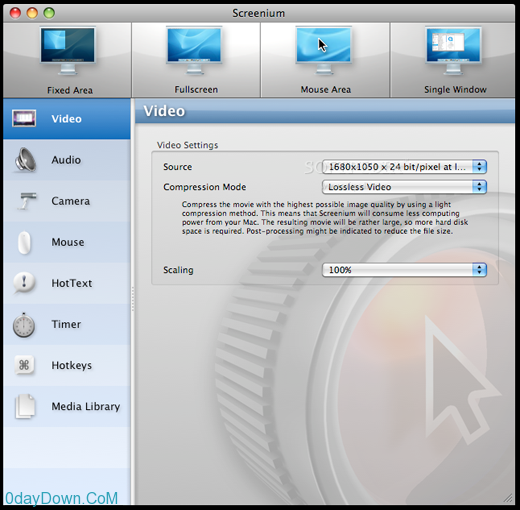 Languages: English, German, Dutch, Czech, French, Italian, Portuguese, Russian, Spanish
Record exactly what you see on your screen and make it a screencast. Whether you're tech support looking for a smart way of visually documenting the solution to a recurring problem, if you long to capture and distribute your university lectures or plain simply want to show the world your browser game high score via YouTube.com – Screenium will get out of your way and simply capture the video for you.
Edit your screencasts
Screenium 2 features a completely new and built-in video editor. From now on you do not require any expensive additional video editing software packages in order to create stunning compositions of your captured videos or to polish your screencast. Whether it is cutting, adding transitions, editing audio or adding effects and animated forms and text, Screenium 2 offers all the features you need to create sophisticated screencasts.
The best way of teaching is by example
Don't just describe a person what to do! It's slow, it's frustrating and chances are it's easily forgotten so you'll have to repeat that lesson at some point. Instead, record a screencast of your instructions and make it available online. What started as a one-on-one tutorial could help thousands of less experienced users all over the world.
Share your videos
When you've finished creating an instructional video for your parents or friends, customers or colleagues, export it in any video format supported by Quicktime. Make it available on a network server, your website, upload it to YouTube.com or any other video sharing portal. 
The more people can access your work, the merrier. Export the videos for Macs, iPhones or the AppleTV. Use Quicktime to convert videos for Windows PCs.
What's new in version 2.1.2:
Meta information (author, producer, copyright, description) can be set for export and for documents
Compositions are now indexed by Spotlight (All texts, generated speech, chapter marks plus all meta data like author, copyright,
转载请注明:0daytown » Screenium v2.1.3 Multilingual MacOSX 屏幕录像软件