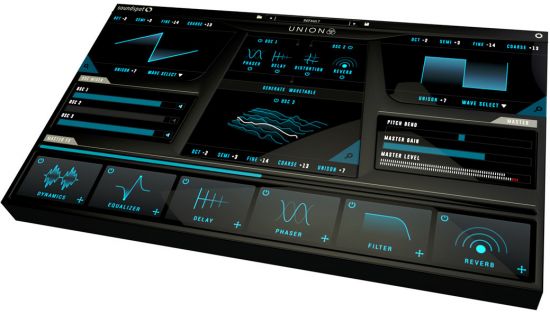 File size: 170 MB
Union is SoundSpot's next-generation wavetable synthesizer audio plugin, featuring a unique wavetable generator that lets you create harmonically rich wavetable sets from the output of Union's main oscillators: a technique frequently used by the world's best sound designers to create rich and deep sounds. Union allows you to utilize this synthesis technique with a single click of a button.
---
Innovative Modulation system
Union features an innovative click through modulation system that allows you to quickly create rich and compelling sounds.
Oscillator 1, 2 and 3 include their own dedicated ADSR, MOD ADSR and LFO envelopes and Oscillator 3 includes an additional wavetable window that allows you to scrub through stereo wavetable sets to create organic movement in your sounds.
In addition, the master FX chain features 4 LFOs that can be assigned to any master FX control, and includes a trigger mode so they can be used more like a conventional ADSR envelope further increasing the creative possibilities.
The Best of Analog and Digital in one audio plugin
Everyone loves the rich, dense sound of hardware, but most find it's limitations frustrating. With this in mind, we set out to build a synthesizer that provided all of features of analog equipment with the precision and convenience of the digital realm.
Union has been modelled from some of the best sounding synths in music history, and combines this raw power with unique features such as wavetable generation that simply wouldn't be possible in purely analog form. This results in a synthesizer that truly rivals hardware, but lives inside your computer.
Do all your post-processing inside the Union audio plugin
Once you've made your sound, it's time to give it that final polish. However there's no need to go adding multiple audio plugin to your channel strip as the Union plugin features an FX rack that contains 9 professional quality post processing effects.
These include: Compressor, 4 Band Parametric EQ, Distrortion, Delay, Phaser, Chorus, Filter & Flanger. Furthermore a brand new Reverb modelled on analog hardware has been included.
All of the FX use the best algorithms from SoundSpot's post processing audio plugins range. This means you can acheive a professional polished sound inside of Union.
Features:
– Intuitive workflow for control over every aspect of your sound.
– Up to 32 voices of unison per oscillator
– Spectral anti-aliasing.
– 2 Main analog-style oscillators.
– Wavetable generator oscillator.
– Intuitive modulation system.
– 9 FX modules based on SoundSpot's post processing range.
– Over 300 professionally designed presets.
Platform: Win32/64; AAX, VST3, VSTi
Whats New:
Updates: official site does not provide any info about changes in this version.
转载请注明:0daytown » SoundSpot Union 1.0.3