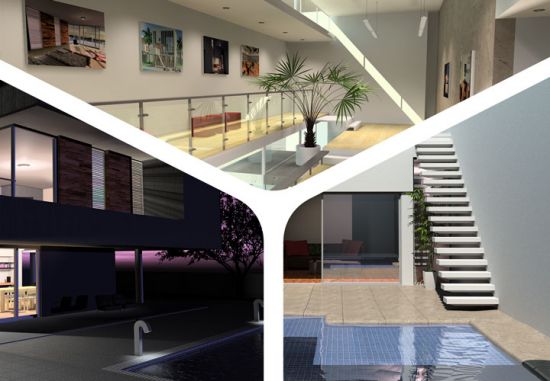 File size: 445 MB
Visualization Application. Artisan Rendering runs closely with Renga Architecture so that users can create high quality, photorealistic images of buildings and structures they design in Renga Architecture.
---
Artisan Rendering was developed specifically for ASCON Group by PICTOREX Ltd, one of the leading international suppliers of visualization solutions.
Artisan Rendering comes ready to run with a large database of materials, illumination sources, and backgrounds. This lets you get to work immediately, creating magnificent images of your designs long before they are constructed and manufactured.
The system uses the OpenGL hardware rendering for image manipulation. The powerful rendering system uses GPUs for ray tracing in high quality images and global image illumination.
Through Renga's API
Artisan for Renga is a remarkable example of implementing Renga Architecture's open API (application programming interface).
The user-friendly process to start rendering in Renga Architecture is simple, and does not require importing or exporting the model. This ensures that you start the process correctly, with nothing getting lost along the way.
Artisan's Capabilities
The capabilities of Artisan Rendering for Renga include the following features:
Eliminates the need to export models and import them into stand-alone renderers
Includes a wide range of textures
Allows you to add their own textures
Offers a variety of illumination settings
Applies backgrounds from standard libraries and from those provided by you
To save users significant time in reducing the chore of applying textures, Renga Architecture implements object grouping by materials. This provides you with two benefits: when one object is assigned a texture, all other objects in the group receive the same texture; when a texture needs to be changed, the texture for all objects in the group change automatically. Materials grouping makes it possible to apply textures to individual objects and all objects, as required.
Working with Textures
Artisan Rendering uses a cache to save the latest application of textures to a project and so reproduces them to the next visualization of the same project. This feature spares you the trouble of performing the chore of reapplying textures, significantly decreasing the time needed to prepare models for rendering.
The software supports the use of multiple monitors, with Renga Architecture displayed on one monitor and Artisan Rendering on the other. This makes it possible for you to keep designing in Renga while simultaneously keeping an eye on the renderings being run by Artisan.
Whats New:
Updates: official site does not provide any info about changes in this version.
转载请注明:0daytown » Artisan Render 1.0 x64 for Renga Architecture