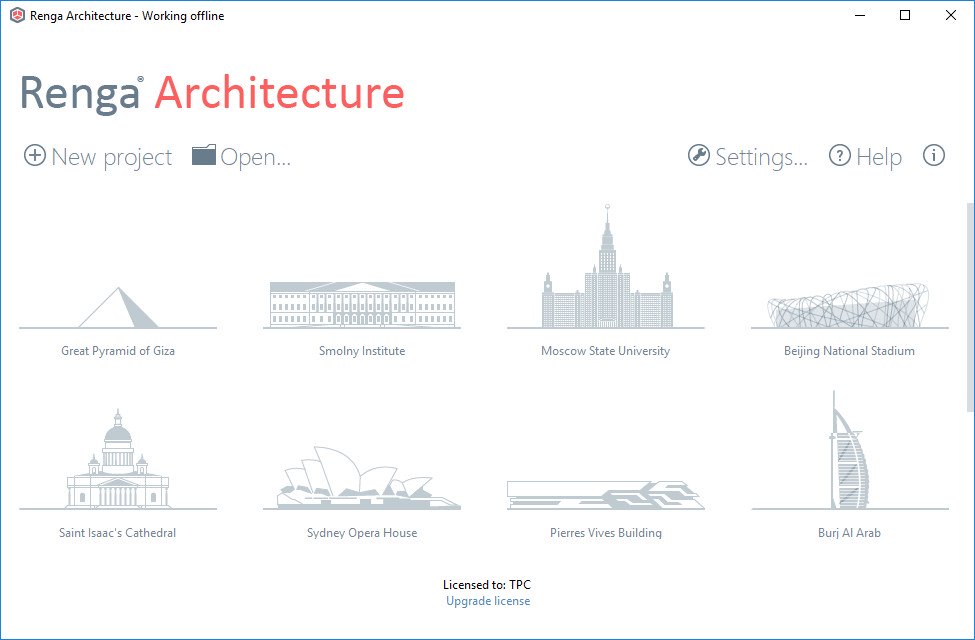 File size: 163 MB
Creating a Sketch. Conceptual Design. To start modeling an architectural aspect of the future building fast and without much effort, specialist requires an efficient tool. Work in Renga BIM system is based on two general principles: design in 3D space (to achieve better clarity) and intuitive, context-based interface (to simplify interaction with 3D model.
---
Architect starts to create building in the 3D view, using object tools like Wall, Beam, Window etc. He can switch to the plan at any moment and continue 3D modeling there.
A lot of specialists have already appreciated this approach and admitted Renga Architecture operating speed to be a great deal higher compared to other programs.
Detailed Architectural and Space Planning
For more detailed architecture Renga provides tools for fast object creation/editing – Styles, Assembly and Profile Editor. In just a minute user can create his own customized window style or door style, place in it horizontal or vertical mullons, assign structural material, define the type of frame opening, as well as set dimension of window frame, mullons and frames. User can assign the customized style to door openings of any forms and sizes
Automatic Count of Schedules and Quantity Takeoff Sheets
To perform accurate structural volume calculation and material quantities calculation, use Schedule tool. It automatically collects object data and generates reports in a table format. In event of changes in 3D model, schedule recalculates automatically
Architect can create his own customized schedules or use precast templates. Software has already got templates created in accordance with the Russian State Standards (GOST) – Room Schedule and Window and Door Schedule. Architect can modify schedule view, group schedules by properties, apply filters, add custom properties.
To get correct finish room volumes, architect may use Finish Room Schedule template, that automatically collects design characteristics of rooms – wall area, floor/ceiling area, baseboard length minus enclosing structures openings.
Impressive Project Presentation
If you want to impress your clients, you can easily create high-quality images of the model (renders) by using a texture map and assigning materials. For this purpose Pictorex Company developed Artisan Rendering app, that can be installed with Renga Architecture.
Besides that, you can export information model to the 3D graphics formats OBJ, DAE, STL to perform rendering in popular products like 3Ds Max, Blender, Lumion etc. Export your model in STL format and 3D print it to get an architectural massing model.
Take your clients on a virtual walk inside a building model using augmented reality glasses. Renga Architecture establishes link with Occulus Rift VR Headset. Wearing this headset, you can behold the future building and appreciate design and engineering solutions.
3D spacemouse by 3D Connection Company is another gadget to use, if you want to take a walk through the model. Just like VR Headset, it is integrated with Renga.
Document the Project
Built-in Drawing Editor allows to create project document set. Editor was implemented to automate drawings generation to the maximum. Main views of the building (plans, elevations, sections) are checked out automatically straight from the 3D model.
Production tools will help to create drawings in accordance with both Russian System of design documents for construction (SPDS) and International Organization for Standardization (ISO).
Display styles allow to set visibility and detailization level of objects on drawings. Therefore, user can obtain several drawings out of one plan view: brickwork plan, equipment layout plan, emergency exit plan, beams and columns layout plan etc.
Architects can export/import their drawings to the DWG/DXF formats to .interact with other CAD systems like AutoCAD.
Quick Project Modifications
Changes may occur during any design development phase of a building project. Renga BIM system provides architect with tools able to reduce the cost of modifications to a significant degree.
Dimensions added by user would track changes made in 3D model, whether user draws a floor plan or creates product drawing. May user move partition or modify the window height, sizes will recalculate automatically. Rooms are always associative to the surrounding structures. Modification of room size in plan automatically recalculates floor, wall and ceiling area.
Data Export for Physicotechnical Calculations
BIM model created in Renga Architecture contains not only 3D geometry, but also physical properties of construction materials (type of material, thickness, conductivity), interior finish types and elevation finish types. This data along with 3D model can be exported to analysis software solutions, after which user can perform thermo-technical calculations of outer walls or daylight factor calculation. To transfer Renga BIM model to the analysis application user only needs to export it to the IFC format.
Design Approval with Cross Discipline Specialists
In Renga BIM system architect and structural engineer work in single environment with the same 3D model. Each member of the project can track the changes his colleagues had made. This feature reduces the chances of mismatch between architectural, structural and MEP models, validating the accuracy and consistency of this models. It also reduces time spent on approval.
If designers create their part of project documentation using different software, other members of the project can conform it at the BIM model level by exporting data to an open file format IFC, or at the drawing level by exporting data to the DWG/DFX format. For task exchange that considers editing, specialists may use a convenient data management system like Pilot-ICE.
---
Download rapidgator
https://rg.to/file/55ef858c738340d10aaf0deb8a59a1e1/RengaArchitecture3.3.24701.0.rar.html
Download nitroflare
https://nitroflare.com/view/839AE66EBB249A7/RengaArchitecture3.3.24701.0.rar
Download 城通网盘
https://474b.com/file105/7940988-427596693