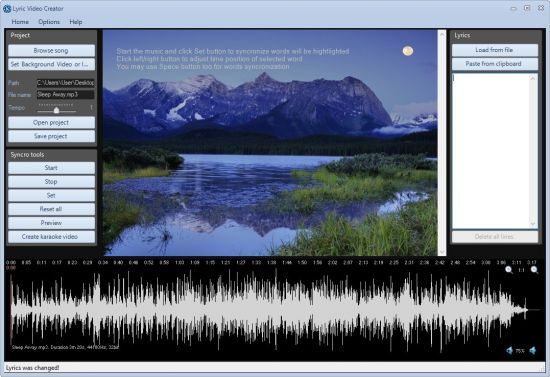 Languages: English | File Size: 54.99 MB
Lyric Video Creator is a program designed to create video presentations with background music and scrolling text/lyrics. It is also suitable for creating karaoke videos that are very popular online (eg on Youtube) or used by professionals for entertainment at parties and events of all kinds.
---
Clean and easy-to-use GUI
The interface resembles a classic multimedia player, but with the creation, option integrated. At first sight, you can see the preview screen where all the videos or images are loaded. Speaking of karaoke, on the far right side is the "Lyric" grid, from there you can load the text files and overlap them with the videos. The left side lest you choose your background effect and allows you to test and observe the audio and video capabilities of your project. The audio is supported by the waveform located at the bottom of the screen.
Create music videos with timed lyrics
After you have determined the video and the text, you should proceed to align and edit the timing values. The settings are stacked in a single window, which is a great time saver as there are no other tabs with extra settings to look for. The first category of settings is "Encoding," and gives you the possibility to set the video quality, FPS, and encoders. After that, you can edit the font, by picking a color for every state of the given text. Then you have "General," which lets you set the delay and choose the text's encoding format. Pick the lyric rows and alignments, and you are ready to go.
Quick export of an edited file.
– After all the settings are settled, give it a test run and then use the "Save Project" button to create the file. You can either export it as AVI or as MP4.
Lyrics on video background
– The best software to create video presentations or video karaoke songs
– Add Text to custom backgrounds (images or videos) with background music!
Customized Background
– Add a "video" background or a static image.
Background Music
– Import your favorite songs or convert your MP3 to Video Karaoke.
Sliding Text
– Sliding Text on one or more lines, and aligned as you want.
Syncronization
– Synconize text with the music and create your "Lyric Video".
• Release notes were unavailable when this listing was updated.
Requirements: Windows 10 (32&64 bit), Windows 8/7/Vista & XP