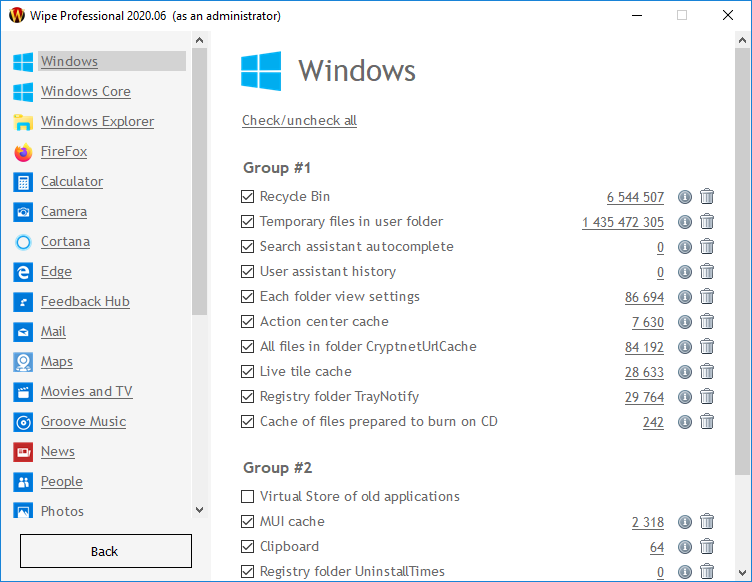 WIPE Pro是一款电脑清理软件,它可以帮助用户对电脑进行快速清理,同时它也可以自动清除浏览器的了历史记录和临时文件,十分的方便
---
Languages: Multilingual | File Size: 5.98 MB
This powerful program can remove a lot of gigabytes of garbage on your computer and recover many free disk space. In addition, it will protect your privacy on the Internet – it removes records about personal activity on PC.
---
You will be able to delete browser history and cache, index.dat files, registry, internet cookies files, autocomplete-history, temporary internet files and many many other items. This program also erases any other tracks of personal activity which you made when used your PC, and no matter in which program: Windows, Internet Explorer, FireFox, Chrome, Opera or any other…
To prevent recovery of deleted data the program uses the following security methods: DoD 5220.22-M method, Gutmann method ( full 35 steps ), Russian GOST and other. You can also customize cleaning process and choose which items to remove and which is not. Or you can view detailed information about areas where garbage located on your computer.
Privacy and performance
The purpose of this utility is to maximize the privacy and performance of your computer. It will delete many temporary files, cache, cookies, Internet history and other things, freeing up valuable disk space, especially if you run your system on small SSDs. In addition, as a result of our software, you will receive maximum confidentiality, so praying eyes will not be able to spy on you as before, record your activities or do other bad commercial things.
All inclusive
Unlike other cleaners that remove only cookies and history in your browser, our own solution will explore more deeply. It will remove a lot of other electronic junk files that was created while surfing the Internet, and it's not just technical things that waste your valuable disk space, it's something that allows software makers to track you and sell you things that you really don't need.
Huge list of supported areas
In a new version of our software we have concentrated on the main function – cleaning. Our competitors add many additional tools to their software which are not related to cleaning, and waste your time, and sometimes bring even more confusion. We are concentrated only with one thing. The most important – the purpose. And we did it the best.
Trust and Awards
Our software has received multiple awards from world known rating agencies and bloggers. This is trust and reliability. We have been in business since 2002, that's why we have not just knowledge, but also a lot of experience.
Fast Support
Sometimes something goes not as expected. But don't worry, according our statistics, our support team responds to 90% of requests within one hour! Other 10% get response within six to twelve hours.
Strong Security
Security and privacy is our main goal. We use only newest and industry leading standards and protocols to process user's data. With us you're and your data in safe.Requirements: Windows XP, Vista, 7, 8, 10 / .NET framework 3.5