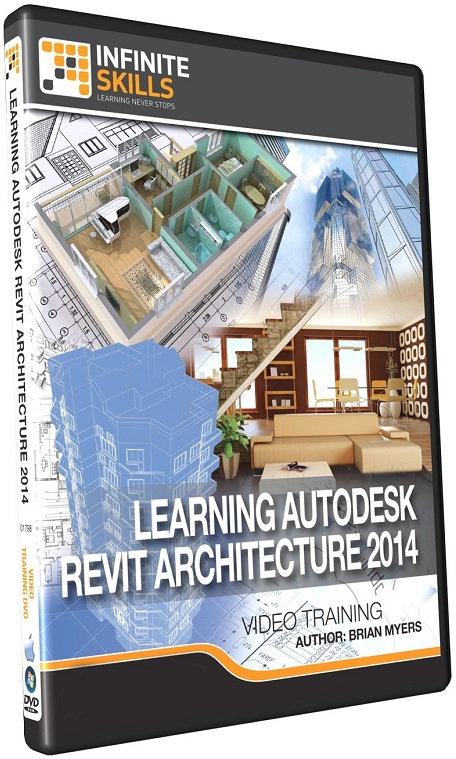 Infinite Skills – Learning Autodesk Revit Architecture 2014 Training Video
English | MP4 | 1280×720 | AVC 225 Kbps 15.000 fps | AAC 64.0 Kbps 44.1 khz | 7 hours | 1.3 GB
Genre: Video Training

In this Autodesk Revit Architecture 2014 training course, expert trainer Brian Myers introduces you to the powerful features of this BIM (Building Information Modeling) software from Autodesk. Designed for beginners, this tutorial focuses on the core architectural tools that Revit has to offer. No prior experience is required to learn from this Revit video tutorial.
You will begin this training with a tour of the Revit interface, to become familiar with the tools and their locations. You will quickly jump into using the tools with instruction on column grids. Other topics that Brian covers include; working with walls, adding doors and windows, managing and switching views, adding floors, roofs and ceilings. You will learn to load and place casework, add stairs, decorate with topography, and work in rooms. Brian also teaches you about rendering, graphic visibility, detail components, printing and exporting, and finally, linking CAD files.
When you have completed this Revit Architecture 2014 video training, you will have a working understanding of the architectural tools available in Revit. You will be capable of creating your own Revit Models, using the techniques Brian covers in this training course. Working files are included, allowing you to follow along with the author throughout the lessons.
01. Introduction
02. User Interface
03. Things You Must Do First
04. Column Grids
05. Walls
06. Doors And Windows
07. Views
08. Floors
09. Roofs
10. Ceilings
11. Casework
12. Stairs
13. Topography
14. Rooms
15. Rendering
16. Graphics
17. Detailing
18. Printing And Exporting
19. Linking Files
20. Conclusion