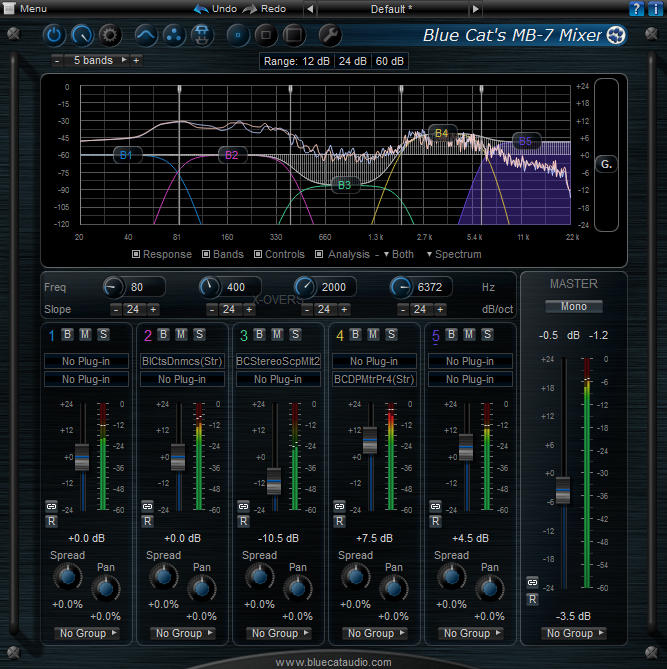 Blue Cat Audio Blue Cats MB-7 Mixer v2.04 | 67.7 MB
Blue Cat's MB-7 Mixer is a unique plug-in that splits the signal into several frequency bands and lets you mix and process them as if they were separate tracks. Each band proposes controls that can be found on a mixing console, and more: bypass, mute or solo each band separately to isolate frequencies you want to work on, adjust the gain, the "stereoness" and the position in the stereo field. When manipulating the stereo image, a master mono switch also lets you check mono compatibility. 
The plug-in can also operate as a multiband VST Host: you can process each band independently with your favorite VST plug-ins! Up to four plug-ins can be loaded on each band, pre or post fader. Latency compensation, presets management, undo/redo integration, and individual plug-in bypass are included for optimal operation.
The plug-in also proposes unique linking and grouping options thanks to our multi-instances technology. You can link bands together within a single instance or between several instances of the plug-in on different tracks. This lets a simple fader control as many bands on as many tracks as you want. This is particularly useful when adjusting the placement or the balance of several competing tracks.
And as usual with Blue Cat Audio, the plug-in provides comprehensive visual feedback to let you know what's exactly going on: for each channel, monitor the spectrum, the in/out levels and the frequency response.
Thanks to its advanced MIDI and automation input capabilities, when combined with our other plug-ins, Blue Cat's MB-7 Mixer is capable of advanced side-chaining features that really unveils its potential.
---
 Download uploaded
Download filefactory
http://www.filefactory.com/file/3cx7lwvwka9l/n/BlCaAuBlCaMB7Mi2.04-R2R.rar
Download 城通网盘
http://www.400gb.com/file/31069600
Download 百度云
http://pan.baidu.com/s/19UeYc