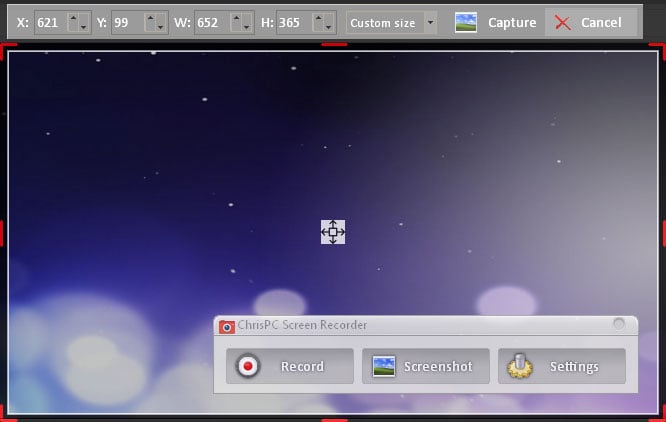 ChrisPC Screen Recorder 2.x | 21 Mb
ChrisPC Screen Recorder is your perfect toolbox software to record quietly and with astonishing options your desktop screen, even when ChrisPC VideoTube Downloader cannot do the download for you, due to DRM or copyright protection issues. 
On many occasions, as an internet computer user or computer geek you need a set of programs that make your life easier, more enjoyable and smooth: a kind of a toolbox. We all have such a toolbox on our desktop PC, laptops and nowdays even on our smartphones or tablets: from a favourite MP3 player, to your photo viewing and processing app, a movie player, your file browser or back-up software, a YouTube file downloader, a screen recorder and so on.
It's now time to introduce our newly created software, ChrisPC Screen Recorder, born close to Christmas this year 2016, that will make your day-to-day private and/or professional life more simple and practical while using a Windows PC or laptop.
his is not only a useful tool to make screenshots or save videos like its name says, but think of all possibilities. With Screen Recorder, there is a safe and easy way of saving video streams from sources you cannot save/download directly, from your computer's browser for example.
Furthermore you can record tutorials for your friends, family, employees or students. Why explain to your remote colleagues from the East Coast how to operate a spreadsheet or a word processor hidden feature in an email or by phone when you can upload a video on YouTube with the steps recorded in a clip on your laptop? It's faster, right? And re-usable. It's an easy way to help your friends, students or parents.
Easily share and spread your know-how and computer skills with the desktop recording features of ChrisPC Screen Recorder. Your recordings of the desktop screen are available for editing and publishing after recording is finalized.
Screen Recorder has the options to edit out parts from the beginning and/or ending of the recorded clip so you can decide on the final version.
ChrisPC Screen Recorder has many key features including:
Record your screen with audio from your PC with 1 click into MP4 files.
Screen recording in 3 modes: ability to record full-screen, selected area on the desktop or an application window.
Record your gameplay in windowed and borderless modes.
Select the optimum recording quality settings for your computer configuration.
Choose the FPS (frame per seconds) for your recordings: 60, 50, 30, 25, 20, 15, 10, 5, 1.
Video encoding presets for H.264 MP4.
Audio encoding to AAC or MP3 codecs.
Customize recording filename based on the recording date and time.
Preview and edit the video after recording.
Hide cursor movement while recording.
Add text watermark to your videos, easily select the font name, size, text color and background color.
Add image watermark to your videos, by choosing the PNG or JPG file to be used as watermark.
Screenshot in 3 modes: Take a snapshot of the fullscreen, selected area on the desktop or an application window.
Save screenshots to PNG, JPG or BMP files.
Customize screenshot filename based on the recording date and time.
Fast Hotkey configuration.
Skinnable interface.
Minimize ChrisPC Screen Recorder to systray.
Home Page – http://www.pcscreenrecorder.com/
---
Download rapidgator
https://rg.to/file/58b3f7992ff2b862380f2d75d3e8d958/ChrisPCScreenRecorderPro2.rar.html
Download nitroflare
https://nitroflare.com/view/07DE5D2D62167DE/ChrisPCScreenRecorderPro2.rar
Download 百度网盘
链接: https://pan.baidu.com/s/1bz0LOxXVCUP4SydDn2qnuw?pwd=g264 提取码: g264
---
Download rapidgator
https://rg.to/file/a5e5038baa3c850912bffc608c8c2a01/ChrisPC_Screen_Recorder_Pro_2.60.rar.html
Download nitroflare
https://nitroflare.com/view/915CB4DCCC9B47C/ChrisPC_Screen_Recorder_Pro_2.60.rar
Download 百度网盘
链接: https://pan.baidu.com/s/1SsrjroEFJZMSc2LgB5a1eQ?pwd=npjz 提取码: npjz
---
Download rapidgator
https://rg.to/file/65bdc7db04ddf1475bac70b22c773f51/ChrisPC_Screen_Recorder_Pro_2.50.rar.html
Download nitroflare
https://nitro.download/view/4A3B8B532A885FA/ChrisPC_Screen_Recorder_Pro_2.50.rar
Download 百度网盘
链接: https://pan.baidu.com/s/1y_eN7hR4ThUgCzgCPJWPXA 提取码: acj8
---
Download rapidgator
https://rg.to/file/a03c74878f5ba095f1236665bb8e17b4/Screen.Recorder.Pro.2.40.rar.html
Download nitroflare
https://nitroflare.com/view/FC67443FD43E78E/Screen.Recorder.Pro.2.40.rar
Download 百度网盘
链接: https://pan.baidu.com/s/13cq52ap4DPGvLU6H6yU4FA 提取码: gff3
---
Download rapidgator
https://rg.to/file/bc2034d9cfa41dad5ed41675aec5aacf/ChrisPC.Screen.Recorder.Pro.2.20.rar.html
Download nitroflare
https://nitroflare.com/view/BDFB038109FE6F1/ChrisPC.Screen.Recorder.Pro.2.20.rar
Download 城通网盘
https://t00y.com/file/7940988-397901712
Download 百度云
链接: https://pan.baidu.com/s/1oQzdVsjzzmZeRppMRnddMw 提取码: qcr6
---
Download rapidgator
https://rg.to/file/9d83d62986f06b6e4bade5dd9e25664a/ChrisPC.Screen.Recorder.Pro.v2.00-LAXiTY.rar.html
Download nitroflare
http://nitroflare.com/view/BFE020EF6B88682/ChrisPC.Screen.Recorder.Pro.v2.00-LAXiTY.rar
Download 城通网盘
https://u7940988.ctfile.com/fs/7940988-292286667
Download 百度云
链接: https://pan.baidu.com/s/1ZCH6NxdBeY7nvpPkhlPpqg 密码: j8hb