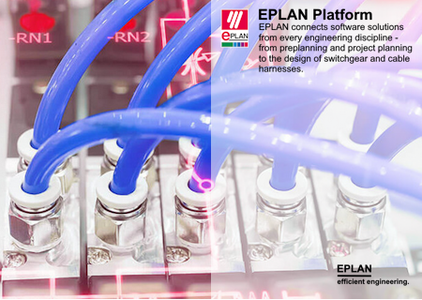 EPLAN Pro Panel是一款专注于三维控制柜、开关柜设计的CAE工程软件。 该软件所提供的功能主要包括:电气或流体控制箱柜内的三维布局设计;虚拟的三维布线或布管;数控加工所需数据的自动生成;线缆预装配和自动线缆加工所需数据的提供;三维的配电母线系统与折弯铜排的设计;以及与生产制造流程的完全集成等等。
---
EPLAN ProPanel 2024.0.3 (21408) | 2.0 Gb
Languages Supported: English, Deutsch, Français, Italiano, 日本語,
Русский, 中文, Español, 한국어, Türkçe.
The Team Developer EPLAN is pleased to announce the availability of Eplan ProPanel 2024. The EPLAN Platform offers software for a variety of engineering disciplines from a single source – and more than just tradition ECAD software.
EPLAN Platform 2024: Exciting New Features Await Users
At the Hannover Fair in Germany, EPLAN gave a glimpse of the forthcoming software version. The last two versions of the EPLAN platform brought a modernised user interface and better performance for 2D and 3D planning. The announcement of EPLAN Platform 2024 promises even more upgrades to enhance user experience. Here are four new features to anticipate.
Calculation and Comparison of Block Properties
The block properties function enables users to link simple objects, such as motors or circuit breakers, within a circuit diagram. The upcoming Platform 2024 will include a calculation feature that allows for the calculation of different block properties and their comparison. This feature will aid in the determination of protection devices and cable sizes based on defined loads.
Automated Connection of Spare Wires in Machine Wiring
In the current EPLAN platform, machine cabling includes the connection of sensors and actuators in control cabinets. The 2024 version will introduce the automatic connection of spare cores to spare terminals via the cable editor. EPLAN Harness proD will also support the determination of cable lengths for planned machines. The new calculation function for block properties will enable the calculation of voltage drop, among other things.
Optimised Terminal Editor for Easy Management and Testing
The optimised terminal editor will allow for the easy management of terminals, terminal strips, and accessories. Users can easily check terminal strips and view terminal connections directly in the circuit diagram.
Easy Navigation in the 3D Model of the Control Cabinet with EPLAN Pro Panel
The 2024 version of EPLAN Pro Panel will feature a new navigation cube that enables easy navigation through the 3D model of the planned control cabinet. Additionally, users can automatically remove gaps on the DIN rail during construction with the help of the software.
The EPLAN Platform offers software for a variety of engineering disciplines from a single source – and more than just tradition ECAD software. From preplanning to electrical engineering and fluid-power designs, to designing switchgear systems and wire harnesses: with EPLAN, you always have the right tool at hand. The new generation of the EPLAN Platform offers you special added value and new functions that will be continued and expanded in the coming versions of the software.
The EPLAN Platform 2024 revealing new mathematical calculation functions, greater ease-of-use for terminal management, and unprecedented possibilities for navigating through the 3D model of a control cabinet what also facilitates creating the digital twin in EPLAN Pro Panel. Another improvement can be found when dealing with machine cabling in conjunction with EPLAN Harness proD, whereby spare cables can be connected in no time at all moving forward, with just a simple click of the mouse.
EPLAN Pro Panel gives you a stable foundation for automating and industrialising your panel building. It enables 3D design and construction of control cabinets, switchgear systems and power distribution systems for energy distribution. EPLAN Pro Panel provides you an integrated solution for control cabinet design.
EPLAN was founded in 1984 and is part of the owner-operated Friedhelm Loh Group. The Friedhelm Loh Group operates worldwide with 12 production sites and 94 international subsidiaries. The entire group employs 11.600 people and generated revenues of around €2,6 billion in 2019. For the 13th time in succession, the family business has won the accolade "Top German Employer" in 2021. In addition, Friedhelm Loh Group was recognized as "Top vocational trainer" according to a study of Deutschland Test and Focus Money.
Owner: EPLAN
Product Name: ProPanel
Version: 2024.0.3 (21408)
Supported Architectures: x64
Website Home Page : http://www.eplan-software.com
Languages Supported: multilanguage
System Requirements: Windows *
Size: 2.0 Gb
---
Password/解压密码www.tbtos.com
转载请注明:0daytown » EPLAN Pro Panel 2024.0.3