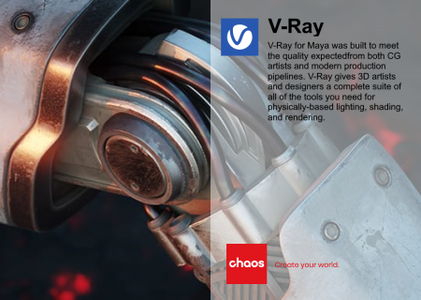 Chaos V-Ray 6 (Build 6.00.02) for Autodesk Maya | 2.0 Gb
Chaos has released V-Ray 6 for Maya. New features in the latest major version of the renderer include V-Ray Enmesh, Chaos's system for repeating geometry across the surface of an object without instancing, and procedural clouds in V-Ray Sky.
Changes unique to the Maya edition include a new V-Ray Profiler for identifying rendering bottlenecks in scenes, and extended USD support, including support for VDB volume shaders in USD.
V-Ray is a complete interactive lighting, shading and rendering toolkit, giving you full control over the entire creative process, from real-time look development to the final frame.
V-Ray for Maya is an Academy Award-winning and production-proven renderer for Autodesk Maya. Known for its versatility and ability to handle any type of project it is considered an industry-standard in visual effects, 3D animation, design and advertising. With CPU, GPU, and distributed rendering options, V-Ray is the only renderer on the market that can help customers future-proof their hardware investment. V-Ray's extensible customization options and powerful lighting, look-development and quick post-processing features save users time, let them go beyond just rendering and help them explore their creative ideas without limits.
31 August 2022: V-Ray 6 for Maya has been officially released.
As well as the features listed above, the release includes updates to environment fog and the VRayVolumeGrid, for rendering volumes.
This video is based on a concept by Encho Enchev and brought to life by the Chaos 3D team.
Chaos develops visualization technologies that empower artists and designers to create photorealistic imagery and animation across all creative industries. The firm's physically based renderer, V-Ray, has been honored with both an Academy Award and an Engineering Emmy for its role in the widespread adoption of ray-traced rendering in motion pictures and television.
In 2022, Chaos merged with Enscape, a leading provider of real-time rendering and design workflow technology for the AEC industry. Enscape offers innovative solutions that connect directly into modeling software, integrating design and visualization workflows seamlessly into one. Together, the newly combined company is creating an end-to-end ecosystem of 3D visualization tools accessible to everyone.
Product: Chaos Group V-Ray
Version: 6 (Build 6.00.02) for Autodesk Maya
Supported Architectures: x64
Website Home Page : http://www.chaosgroup.com
Languages Supported: english
System Requirements: Windows *
Software Prerequisites: Autodesk Maya 2019-2023
Size: 2.0 Gb
---
Password/解压密码www.tbtos.com
转载请注明:0daytown » Chaos V-Ray 6 (Build 6.00.02) for Autodesk Maya