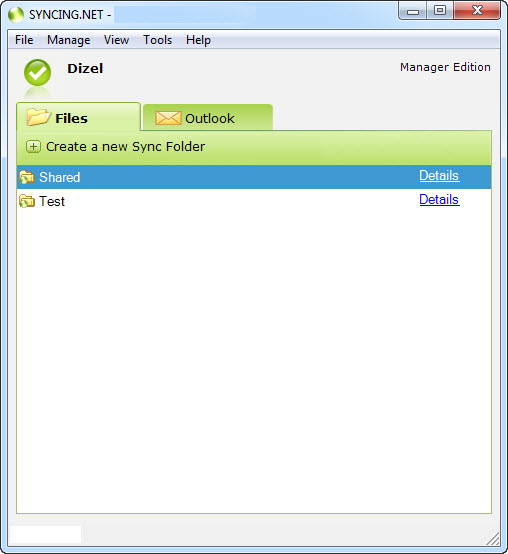 SYNCING.NET提供了一种独特而强大的Outlook,Exchange和文件同步工具,为企业和来自各个领域的专业人士,以及任何个人需要多台PC同步,无需使用服务器。 实时,自动为Outlook,Exchange和文件同步,随时随地。 无需额外的软件,昂贵的服务器硬件或教育训练需要使用我们的工具。 SYNCING.NET为您提供了一个强大的解决方案,简单,安全和负担得起的。 
---
ASBYTE Syncing.NET 5.1.0.2097 Multilingual | 9.1 MB
Languages: English, French, German, Spanish, Russian, Portuguese
SYNCING.NET offers a unique and powerful Outlook, Exchange and document synchronization tool for companies and professionals from every field, as well as any individual needing to sync multiple PCs without using a server. Real-time, automatic syncing for Outlook, Exchange and documents anytime, anywhere. No additional software, expensive server hardware or traning are needed to use our tools. SYNCING.NET gives you a powerful solution that is simple, secure and affordable.
Personal Edition – Outlook, Exchange and document syncing for individuals
The perfect solution for road warriors or home businesses who want a serverless solution for keeping Outlook, Exchange and documents up-to-date in real time on up to 3 PCs. Simple, secure, automatic synchronization – and all without a server. Whether professional or personal, this is the syncing solution that will simplify the way you operate.
Business Edition – Outlook, Exchange and document sharing and syncing for businesses and project teams
Ideal data exchange solution for small to medium businesses and project teams who need Outlook, Exchange and documents synced on up to 50 PCs – without a dedicated server or IT staff. With the Business Edition it's simple to share and synchronize all file types (documents, spreadsheets, PDF, "all of it") in addition to sharing and syncing all Outlook folders (e-mails, contacts, calendars, tasks, etc.) or Exchange data in real time for team members, remote offices and colleagues on the road.
Manager Edition – The complete Outlook, Exchange and document exchange solution for the entire company
The complete data infrastructure solution for business and professional users, with full featured rights management and premium support. SYNCING.NET's Manager Edition offers a serverless solution for connecting the entire company, including remote offices and virtual teams. You retain full control of access rights for all Outlook data, Exchange data and documents to be shared with departments, partners and customers.
Filesharing Edition – Flawless Document Synchronization 
Designed for those who don't need Outlook synchronized, the Filesharing Edition is your perfect solution. Legal documents of any kind, Quicken® files, money or accounting archives, movies, training videos, MP3 and any other type of file you desire will be securely synchronized between your PCs. No more copying to disc or flash drives!
Home Page – http://www.syncing.net/
---
Download freakshare
http://freakshare.com/files/o7d90m5i/ASBYTE.Syncing.NET.v5.1.0.2097.MULTILINGUAL-CRD.rar.html
Download filefactory
http://www.filefactory.com/file/7127cb51vehx/n/ASBYTE.Syncing.NET.v5.1.0.2097.MULTILINGUAL-CRD.rar
Download uploaded
http://uploaded.net/file/x78z7hiv/ASBYTE.Syncing.NET.v5.1.0.2097.MULTILINGUAL-CRD.rar
Download 城通网盘
http://www.400gb.com/file/27794179
Download 百度云
http://pan.baidu.com/share/link?shareid=497191567&uk=3912526821