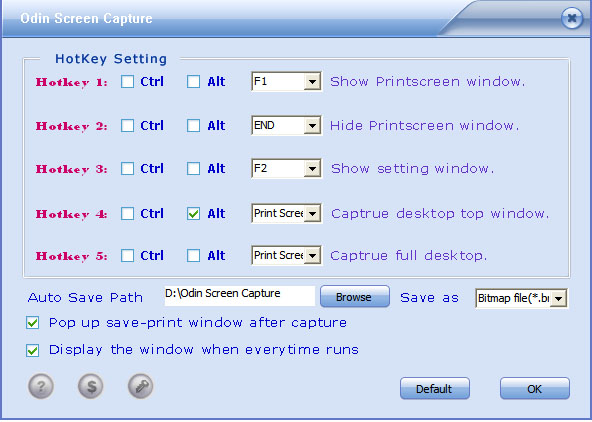 Odin Screen Capture是一个功能齐全的屏幕画面截取工具。它可以让您轻松截取屏幕画面并做出注解,截取的画面可以保存为jpg、bmp格式文件,也可以支持您将图片打印出来。
---
OdinShare Odin Screen Capture 9.8.4 | 1.9 Mb
Odin Screen Capture is a full-featured screen capture print tool that allows you to easily capture and annotate anything on the screen including windows, objects, menus, full screen, rectangular/freehand regions and even scrolling windows/web pages. You can save images in jpg,bmp,png all kinds of formats and the hotkey makes more convenient for you to use it.The Hightlight : it can let you to print the images out.
Key Features
Capture any part of screen from your desktop
gives you options for capturing your entire desktop, the active window, or user-defined area.
Global Hotkeys
Odin Screen Capture includes so many hotkey, show printscreen window,hide printscreen window,capture full desktop,show setting window,all that can use hotkeys.
Save images in many formats
It can save images in many formats like jpg, jpg,bmp .you can send it to editors ,upload to your web or send it to your friends,all is ok.
Print out images
Not only let u save images in your hardisk,but also enable you to print it out if you need . And before you print it out ,you can also alter the size and apply it.
Home Page – http://www.odinshare.com/
---
Download filefactory
http://www.filefactory.com/file/94ux7qlhruh/n/OdinShare.Odin.Screen.Capture.v9.8.4.xxxl.Keygen-MAZE.rar
Download uploaded
http://uploaded.net/file/vw7z5hdt/OdinShare.Odin.Screen.Capture.v9.8.4.xxxl.Keygen-MAZE.rar
Download 城通网盘
http://www.400gb.com/file/27407219
Download 百度云
http://pan.baidu.com/share/link?shareid=121807609&uk=3845405669