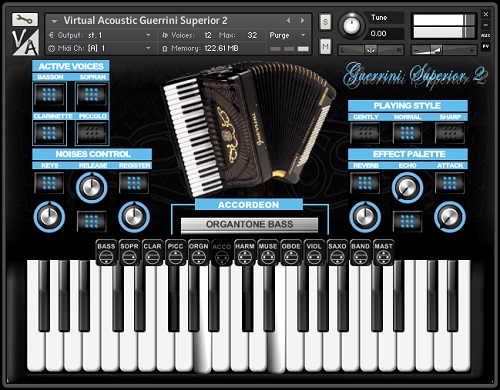 Virtual Acoustic Guerrini Superior 2 KONTAKT | 630 Mb
Do you need famous Guerrini Superior 2 accordion for your studio production or live performance with Kontakt or you need sample of that accordion for your keyboard or some software or hardware sample player? Guerrini Superior 2 is most famous and used model of the Guerrini accordions as well as of all accordion trademarks.
The multi-timbral accordion for Native Instruments Kontakt, with all 13 right hand and one left hand register, including all key, release and register switch noises, play style and register keyswitches, and all of that including changeable reverb, echo and attack time in nice and very user-friendly graphic user interface.
Pack includes studio quality samples with full effects of one of most used accordions for studio and live performances by Guerrini trademark. This four-voices and 40 years old accordion is biggest and heaviest accordion and has most quality tone voices in that class. Basson, Sopran, Clarinette and Piccolo are four base registers and all other registers have been made by combination of these four, just as real accordion.
Specifications
* Guerrini Superior 2, piano accordion, 1986th year
* 44.1 KHz / 24-bit
* 2116 samples / 775 MB
* All original 12+1 right hand registers / 41 keys
* Left hand "Organtone Bass" register / 120 buttons
* Right and left hand in the same instrument (patch)
* 4 variations for right hand (Intelligent random X4)
* 2 variations for left hand (Intelligent random X2)
* Right hand instruments in 3 dynamic levels
* Right hand voices looped unlimited length
* Controllable key, release and register noises
* Built-in changeable reverb, echo and attack time
* Force playing gently, normal or sharp
* Visual information of basic voices in use
* Dynamic bellow control controllable by expression pedal
* Natural "suffocate" tone effect
* Vibrato bellow shake (left hand effect)
Kontakt 5.0.2 or higher required
Format: NKI NKC NKR WAV
---
 Download filefactory
http://www.filefactory.com/file/5xmnj9bqhqzf/n/xidau123_Virtual.Acoustic.Guerrini.Superior.2.KONTAKT-SYNTHiC4TE.rar
Download 百度云
你是VIP 1个月(1 month)赞助会员,

转载请注明:0daytown » Virtual Acoustic Guerrini Superior 2 KONTAKT