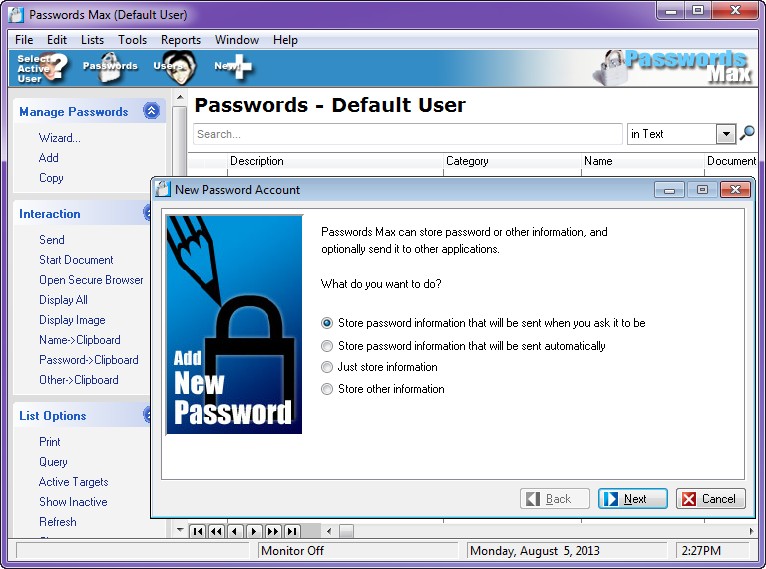 Passwords Max这是一个密码保存软件,它允许无数用户来保存自己个人的密码,而且保存在其中的用户名和密码可以通过标准的Windows剪贴板贴到其他程序中。而且你也可以通过它来浏览或打印密码列表,另外,它还可以为你自动生成密码,通过它你可以加密你的密码文件、登录URL、导入/导出密码设置。
---
Passwords Max 5.90 Build 5875 | 10.9 MB
Passwords Max allows you to effectively and easily manage the many passwords that you need to access web sites and secure applications. Implementing strong, consistent password security is easy.
Current features include:
· Simple, clear, easy-to-use interface with wizards for common advanced options.
· Multiple search methods:
o "Quick locate" allows you to find anything using the first few letters of the password account description, category (group), name, or selected other fields.
o "Query wizard" allows you to make in-depth selections such as "find every account for 'authord.com' in the document field", or find accounts with an 'Expiry Date' value between today and a week from now.
o "Report criteria" allow you to select ranges of entries.
· Fields for all common password-related data (eg. account name, password, related document or URL, notes, expiry date, service description, and so on).
· Fully customizable "dictionaries" for lookups and entry validation. For example, do you need a category not provided? Simply add it! Is there a category you never use? Remove it!
· Professional, flexible reporting:
o Many pre-formatted professional reports for a variety of situations with selectable record inclusion, printer and printer properties, fonts, and report-specific features.
o Create your own report using the simple "report wizard". Pick your fields, pick your order, and you're done!
o All lists may be printed or exported to HTML (web pages) using the current list format and record selection.
· Manage your collection with an intelligent assistant:
o Send password or other information automatically to other applications.
o Secure integrated browser allows direct interaction with web pages.
o Support for user-selectable encryption methods including Extended Blowfish, DES, Triple DES, RC4, Safer and more.
o Complete "Group Administration" features (Enterprise Edition for Groups) including user management by levels and groups (categories).
o Complete audit trails (Enterprise Edition for Groups).
o Encrypt/decrypt external files.
o Expired password notification and prompting.
o Filter unnecessary characters out of captured clipboard text.
o Synchronize between separate databases.
· Multiple database/collection support; easily import and export a subset of a database/collection, or select a completely different database/collection.
· Backup and restore utility included at no extra charge (ZIP file compatible).
· Much more!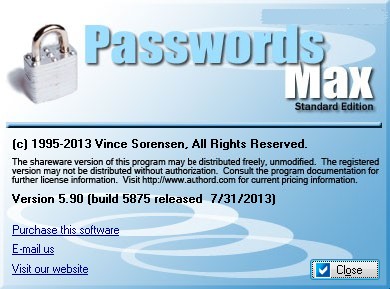 OS : Windows 95, 98, ME, NT, 2000, 2003, XP, Vista and Windows 7
Language : English
Home Page – http://www.authord.com
---
Download filefactory
http://www.filefactory.com/file/6gn40s99k989/n/Password.Max.5.90.Build.5875.rar
Download uploaded
http://uploaded.net/file/vkg09nlh/Password.Max.5.90.Build.5875.rar
Download 城通网盘
http://www.400gb.com/file/27031685
Download 百度云
http://pan.baidu.com/share/link?shareid=3233632728&uk=3795078629