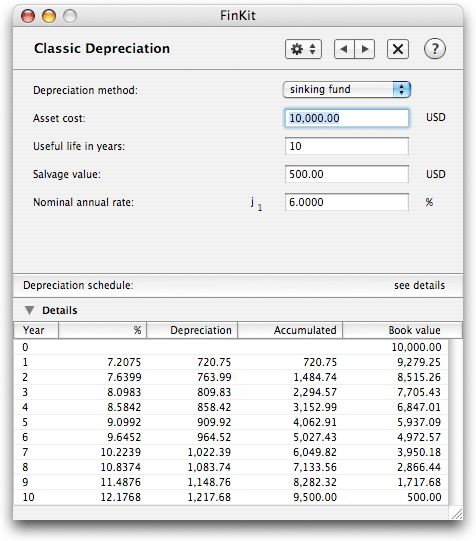 一款 多功能财务计算器
---
FinKit 3.2.12 | Mac Os X | 9.5 MB
FinKit is a flexible and intuitive financial calculator that lets you solve all sorts of problems involving the time value of money. FinKit provides 55 different financial calculations.
Assets
Capitalized Cost
Classic Depreciation
MACRS Depreciation
Bonds
Bond Book Value
Bond Duration 
Bond Price
Bond Yield
Zero-Coupon Bond Price
Zero-Coupon Bond Yield
Dates
Time between Dates
Term Date
Date Series
Year Fraction
Periods and Days
Bank Holidays
Interest
Simple Interest between Dates
Actuarial Interest between Dates
Compound Interest between Dates
Compound Interest Factors
Life
Probability
Pure Endowment Premium
Pure Endowment Payment
Whole Life Annuity Premium
Whole Life Annuity Payments
Temporary Life Annuity Premium
Temporary Life Annuity Payments
Whole Life Insurance 
Temporary Life Insurance 
Temporary Endowment Insurance 
Loans & Leases
Installment Loan
Rule of 78 Loan
Balloon Payment Loan
Interest Only Loan
Fixed Principal Loan
Sinking Fund Loan
Prepaid Interest Loan
Extra Principal Payments Loan 
Credit Cards
Equipment Lease
Options
Black-Scholes Option Pricing 
Black-Scholes Implied Volatility 
Payments
Single Payment
Periodic Payments
Rates
Effective Rates
Equivalent Rates
Periodic to Annual Rates
Inflation and Taxes
Find Rate
Miscellaneous
Annuity
Perpetuity
Sinking Fund
Savings Goal 
Investments
Periodic Withdrawals
Fractional Withdrawals
System requirements
FinKit for Mac OS X requires Mac OS 10.4 or later and is compatible with Leopard, Snow Leopard, Lion and Mountain Lion.
---
Download filefactory
http://www.filefactory.com/file/4zfvdhterhqx/FinKit.v3.2.12.zip
Download uploaded
http://ul.to/6jtnp67s
Download 城通网盘
http://www.400gb.com/file/26649988
Download 百度云
http://pan.baidu.com/share/link?shareid=3807842550&uk=1664437789
转载请注明:0daytown » FinKit 3.2.12 MacOsX