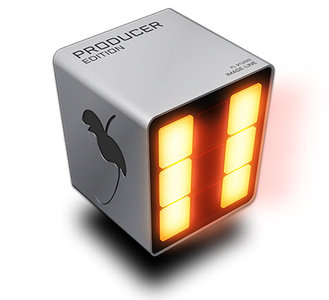 Image-Line Plugins Pack WiN
DrumSynth Live v1.1.23: 16Mb | Edison v2.2.10: 34Mb | FL Studio Producer Edition v11.0.2: 294Mb | Gross Beat v1.0.12: 17Mb | Harmless v1.0.22: 22Mb | Harmor v1.3: 27Mb
Juice Pack v2.1.8: 24Mb | Maximus v1.0.13: 18Mb | Ogun v1.1.10: 23Mb | SliceX v1.0.17: 24Mb | Sytrus v2.6.66: 23Mb | Vocodex v1.0.6: 23Mb || Team R2R 2013.07.25
DrumSynth Live v1.1.23: 16Mb | Edison v2.2.10: 34Mb | FL Studio Producer Edition v11.0.2: 294Mb | Gross Beat v1.0.12: 17Mb | Harmless v1.0.22: 22Mb | Harmor v1.3: 27Mb
Juice Pack v2.1.8: 24Mb | Maximus v1.0.13: 18Mb | Ogun v1.1.10: 23Mb | SliceX v1.0.17: 24Mb | Sytrus v2.6.66: 23Mb | Vocodex v1.0.6: 23Mb || Team R2R 2013.07.25
DrumSynth Live v1.1.23
Drum patches to the max
DrumSynth Live features simultaneous support for 24 programmable real-time drum patches, each assigned to a separate key (C4 to B5). You can morph dynamically from one drum patch to another – just select the patch to morph to and tweak the morph amount wheel. In DrumSynth Live, sound is created by two noise generators and filtered by bandpass filters with incredible range – you can set anything from a single frequency (sine wave) to full white noise.
Platform: WiN32 – VST, WiN64 – VST
————————————————
Edison v2.2.10
An audio editor… as a plugin … or standalone
You may load as many instances of edison as you desire, in any number of mixer tracks or effects locations.
Platform: WiN32 – EXE/VST, WiN64 – VST
————————————————
FL Studio Producer Edition v11.0.2
FL Studio 11
FL Studio 11 is a complete software music production environment, representing more than 14 years of innovative developments and our commitment to Lifetime Free Updates. Everything you need in one package to compose, arrange, record, edit, mix and master professional quality music. FL Studio 11 is the fastest way from your brain to your speakers.
What can it do?
Audio editing & manipulation, Interface & plugin parameters automation, Use in other DAWs, Live performance, Mix & remix audio, Multi-track recording,Record & play MIDI input, Sequencing & arranging, Synth & effect plugin hosting.
What you need
FL Studio has thousands of features, so you best experience it for yourself. The demo includes all of the program's features and most plugins (instruments & effects) fully working.
Platform: WiN32
————————————————
Gross Beat v1.0.12
Instant and powerful…
Gross beat is perfect for real-time or rendered gating, glitch, repeat, scratching and stutter performances. Gross Beat stores audio in a 2-bar rolling buffer under the control of 36 user definable time and volume envelopes, giving you unlimited creative control. 
Live or automated performance
Gross Beat Time and Volume presets can be linked to a keyboard, pad controller or automation source for on-the-fly changes to the preset. Preset slots can be set to momentary (key-held), return to base (slot 1) or hold mode on a per-preset basis. Preset-change synchronization can be set from immediate through to 4 beats (1 bar). Let our FL Studio Guru explain you how to automate Gross Beat using automation clips or the FL keyboard pianoroll.
Gating & volume effects
In addition to the gating possibilities afforded by the spline based envelope, Gross Beat is perfect for side-chain effects without the need to link to an audio source. Just select one of the ducking- style presets for instant side-chain pumping.
Platform: WiN32 – VST, WiN64 – VST
————————————————
Harmless v1.0.22
Not just another subtractive synth…
You may ask: why? For several reasons. To begin with, there are too many subtractive synthesizers already, often bragging about being virtual analog. This one is digital, and proud to be. Everything is fake, the tone generator, the filter & its resonance, the phaser, all performed on the harmonics, before partials are computed. Now, how it's synthesized shouldn't matter after all, if the result sounds subtractive. But Harmless is more than a proof of concept, it allows fine control that wouldn't be possible through classic subtractive synthesis. Filtering and phasing can be assigned unusual shapes & slopes, something normally only possible through offline digital filters. Filter slopes can even be defined in Hz instead of octaves. Finally, you get control on each partial's frequency, creating timbres definitely impossible using common synthesis methods.
Harmless, for less harmonics
Again, Harmless is additive doing subtractive. Harmonics are not produced to be filtered, the timbre is filtered before being generated. This may sound like a detail, but generating sounds this way offers a lot more advantages than drawbacks. 
Not necessarily less efficient
Powered by a highly optimized, multithreaded additive engine, CPU usage is comparable to the one of traditional subtractive synthesizers, especially for low-passed timbres. Voices may be generating hundreds of harmonics in parallel and still not overload the CPU. 
Because less is more
Harmless was limited by design. We don't have any problem with complex synthesizers (we made several), but they're not for everyone. Here, no tabs, no hidden controls, no multipoint envelopes, all features are visible at once, and color-grouped. Over 100 parameters, most of which being automatable, are laid over a clear GUI.
Harmless, only in appearance
Simpler to program, yet packed with evil features. Under the hood, you will find unique options, like linking the phaser's output to partials frequencies. The LFO section can act as a special modulation source, linking the phaser's width to the velocity, or the pitch to the filter's envelope. Of course, Harmless also offers features typically unique to additive synthesis, like its automatable harmonic mask. Harmless is also packed with effects, the usual chorus, delay & reverb, but also a multiband compressor/limiter powered by Maximus itself. It also inherited the powerful unison from Sytrus. In conclusion, our goal was to create a subtractive synthesizer with a unique twist, that also was easy to program, and we believe it succeeded.
Platform: WiN32 – EXE/VST, WiN64 – VST
————————————————
Harmor v1.3
Additive / subtractive
Just like its little brother Harmless, Harmor is driven by a powerful additive synthesis engine. Its modules will look familiar to subtractive synthesizer enthusiasts: oscillators, filters & phasers, these are featured in Harmor but, because performed through additive synthesis, offer more freedom. You don't just select filter types, you draw them. You wanted more, so also featured is the multipoint envelope editor of Sytrus fame, applied to over 40 parameters, in 2 independent parts. Through the same envelope/mappings, randomize any parameter or link it to key or velocity, and even fine-tune each unison voice independently. Processing units can be rearranged in a semi-modular way. If you need one of the 2 filter units processed after the blur unit, that's no problem.
Image synthesis
Because it typically requires manipulating large amounts (up to 500 per voice) of partials over time, additive synthesis is hard to handle. No human can (or even wants to) edit 500 envelopes, but editing 2D images, that we can do easily. Get access to gain & pitch planes which you can tweak in the image editor of your choice, and import any bitmap, even if it wasn't designed to be turned into audio, it might still sound interesting. 
Audio resynthesis
Being an additive synthesizer, Harmor can resynthesize audio files as well. The reproduction will be faithful, not a vague sound-alike as in many additive synthesizers. Resynthesis can of course be tweaked, providing time stretching, pitch shifting, or less conventional manipulations of partials. And of course, the result of the analysis can still be turned into an image for further editing.
Efficient
Additive synthesis is generally very CPU-consuming, but not Harmor's engine. Its efficency is in fact, comparable to that of subtractive synthesizers. Voices may be generating hundreds of harmonics in parallel and still not overload the CPU. Processing being multi-threaded, extra CPU cores come in handy.
Pixels!
Resynthesis or image-synthesis, Harmor features both. Import a piece of audio and time-stretch or pitch-shift it (with formant and transient preservation). Convert this to an image and edit each partial individually!
Two parts
Two independent parts (or "layers") for even more complex sounds. Parts can be imported from other presets.
SFX
In the effects section you will meet all the usual suspects: distortion, chorus, delay and reverb, as well as the mighty Soundgoodizer based on the Maximus engine. Just like processing units, effect slots can be re-ordered. Each part has its own effect mix amount.
Looks pretty
If you don't understand it, visualize what it's doing, best way to learn! Watch how each partial evolves in the built-in spectrogram, a picture is worth a thousand words.
Platform: WiN32 – EXE/VST, WiN64 – VST
————————————————
Juice Pack v2.1.8
Delay
Delay VSTi is a delay line plugin, with inverted stereo / ping pong modes & a lowpass filter, optimized for automation (input and feedback values are ramped).
Delay Bank
Delay Bank VSTi is an enhanced version of the Delay VST plugin, with refined controls and some additional features, such as stereo offset and panning control for the input signal.
Equo
EQUO VSTi is an advanced morphing graphic equalizer plugin. EQUO is particularly suited to live or automated tweaking during a performance. The main display contains both the EQ (VOL) and EQ (PAN) controls so that sounds can not only be shaped according to frequency content, but panning can be applied on specific frequency basis. Further, One Master EQ shape and then a further 8 separate EQ/PAN shapes may be set and then these EQ shapes can be smoothly morphed using the Morph knob. An alternative to EQUO is Parametric EQ 2.
Flangus
Flangus VSTi allows you to enrich the stereo panorama of your mix, add complex flange effects and simulate unison mode synthesis via a set of controllable 'stacked' flangers. 
Love Philter
Love Philter VSTi consists of eight identical filter units, each able to be fed to the next one in the chain. It can create complex delay, gating and filtering effects. 
Multiband Compressor
Multiband Compressor VSTi is a three band stereo compressor using ButterWorth IIR or LinearPhase FIR filters to separate the incoming signal into three bands for processing. Limiter functionality is also included.
Parametric EQ
Parametric EQ VSTi is a CPU friendly 7 band parametric equalizer plugin. You can adjust the frequency and width of each band in the EQ. Also, each band can act as high shelf, low shelf, peaking, band pass, notch, high pass or low pass filter. The plugin also contains global gain wheel to adjust the overall volume.
Parametric EQ 2
Parametric EQ 2 VSTi is an advanced 7-band parametric equalizer plugin with spectral analysis. The band type and the frequency and width of each band are fully adjustable. You can choose from High Shelf, Low Shelf, Peaking, Band Pass, Notch, Low Pass, High Pass or Band Pass filters for each band independently. There is also a global gain slider to adjust the overall volume.
Spectroman
Spectroman VSTi is a spectrum analyser plugin. It behaves like a row of peak meters, from low to high frequencies. The louder the frequency, the higher the bar will peak. A sonograph is a rolling display of the intensity plotted as a chart. Low frequencies are plotted on the left through to high frequencies on the right (Edison has a much larger and higher-resolution capability for this type of display on sampled data). The louder the particular frequency the brighter the trace on the screen. This plugin is useful (when mixing) for checking the frequency distribution of your mix. 
Stereo Enhancer
Stereo Enhancer VSTi contains various filters and processors to alter and enrich the stereo image of the input sound.
Vocoder
Vocoder VSTi is an advanced real-time vocoder effect with a wide range of adjustable parameters and zero latency. Vocoding is the process of using the frequency spectrum of one sound to modulate the same in another. When a human voice is used to modulate a synthesized chord, for example, it can sound like the synthesizer is talking (a classic robot voice from sci-fi).
Wave Candy
Wave Candy VSTi is a flexible audio analysis and visualization tool including an Oscilloscope, Spectrum Analyser and Peak Meter. The display type, colors, frequency range and dynamic range are fully customizable.
WaveShaper
WaveShaper VSTi is a wave distortion effect which maps input (horizontal axis) to output (vertical axis) values using flexible spline-based graph.
Platform: WiN32 – VST, WiN64 – VST
————————————————
Maximus v1.0.13
Heavy weaponry for the loudness war
Maximus will quickly become one of the most rewarding tools in your recording and mixing arsenal. Maximus applies level maximization via compression and/or limiting across three frequency bands, to enhance and improve the final track. Used sparingly, Maximus raises the volume of the track without introducing unwanted distortion and ensures that the quieter parts, often lost in the mix, are more easily heard.
More presence
Maximus offers 4 user definable compression curves and complete visual analysis of the sound as it is processed. Bass can be increased and higher frequencies sharpened. Selected elements of a mix, instruments or vocals for example, or complete tracks are given a professionally mastered 'presence'.
Platform: WiN32 – VST, WiN64 – VST
————————————————
Ogun v1.1.10
Lots of harmonics
Ogun's distinctive synthesis engine can generate more than 32,000 harmonics, modulated by high-level "harmonic mapping" functions, that hand tonal control directly to the user.
Platform: WiN32 – EXE/VST, WiN64 – VST
————————————————
SliceX v1.0.17
A new way of slicing
If the wave file contains slice/region data this will be automatically used instead of the beat-detection algorithm. Slicex offers playback, reordering of slices and time-stretching capabilities optimized for drum loops. 
Platform: WiN32 – EXE/VST, WiN64 – VST
————————————————
Sytrus v2.6.66
Sound engine
Meticulously crafted, Sytrus delivers ethereal lush pads, sonorous bells, scintillating highs or simply dirty grunge. The 6 user- definable operators can act as independent oscillators for subtractive synthesis, cross-modulate to create complex FM (Frequency Modulation) or RM (Ring Modulation) synthesis or the 256 partial harmonic editor can be used to additively synthesize virtually any timbre you can imagine. With up to 64x oversampling Sytrus delivers 100% epic sound. 
Effects
Sytrus features 3 independent, chainable, filter units, each containing an array of filters (13 types each with 5 cutoff slope settings) and integrated waveshaper (distortion processor). The filter units are optionally followed by a Chorus, Delay & Reverb unit. 100% Flexibility.
Presets
With over 500 hand-picked presets Sytrus is ready to contribute to any genre immediately upon installation. Sounds cover – Arps, Bass, Bell, Brass, Chromatics, Drum, DX7, Experimental, FX, Guitar, Orchestral, Organ, Pad, Percussion, Piano, Plucked, Sequence, Synth, String, Wind. 100% inspiration. 
Platform: WiN32 – EXE/VST, WiN64 – VST
————————————————
Vocodex v1.0.6
'By your command' and beyond
What is Vocoding? You have heard vocoding many times, even if you don't know what it is. Vocoders are the classic robot voice from many sci-fi movies. Vocoders analyze the real-time frequency band activity of one sound, the Modulator, to control frequency band activity in another, the Carrier. A vocoder consists of a series of narrow-band frequency gates that allow through only those frequencies from the Carrier that are detected in the Modulator source. So if a human voice is used to vocode a synthesizer chord, it will sound like the synthesizer is talking. Check the demo tracks above.
Platform: WiN32 – EXE/VST, WiN64 – VST
————————————————
Image-Line.DrumSynth.Live.v1.1.23.Incl.Keygen-R2R
Image-Line.Edison.v2.2.10.Incl.Keygen-R2R
Image-Line.FL.Studio.Producer.Edition.v11.0.2-R2R
Image-Line.Gross.Beat.v1.0.12.Incl.Keygen-R2R
Image-Line.Harmless.v1.0.22.Incl.Keygen-R2R
Image-Line.Harmor.v1.3.Incl.Keygen-R2R
Image-Line.Juice.Pack.v2.1.8.Incl.Keygen-R2R
Image-Line.Maximus.v1.0.13.Incl.Keygen-R2R
Image-Line.Ogun.v1.1.10.Incl.Keygen-R2R
Image-Line.SliceX.v1.0.17.Incl.Keygen-R2R
Image-Line.Sytrus.v2.6.66.Incl.Keygen-R2R
Image-Line.Vocodex.v1.0.6.Incl.Keygen-R2R
Image-Line.Keygen.v1.0.1-R2R
---
Download filefactory
http://www.filefactory.com/file/3ogpo3i210x7/IL25072013R2R.rar
Download uploaded
http://ul.to/nadxa1vs
Download 城通网盘
http://www.400gb.com/file/26095316
Download 百度云 http://pan.baidu.com/share/link?shareid=2468955287&uk=1546981405
转载请注明:0daytown » Image-Line Plugins Pack WiN