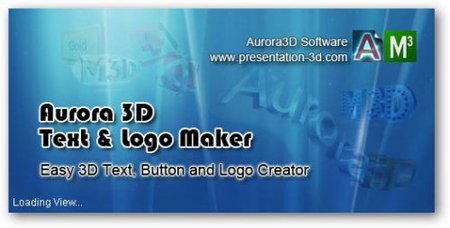 一款简单易用的3D文字,标志,动画制作软件,提供大量的模板及风格选择,提供多种文字样式选择,可以输出PNG,Tiff, Jpg, Bmp, Gif, Ico,Xpm, Ppm等多种格式。
特点:
易用的3D文本、商标和按钮制作
   很大数量的形状和文本模板。 有反射并且构造动画效果和各种各样快的工具,非常易使用。
用途的自由和灵活性
   您能选择各种各样斜面和对齐方式,灯光可以调节,形状可以是互换性的,非常灵活。
输入输出
   能导入图形字体,并且您能导入SVG和转换成三维形状。 您能输出png, tiff, JPG, bmp格式。  
---
Aurora 3D Text & Logo Maker 13.05.03 Multilanguage | 43.4 MB
Aurora 3D Text & Logo Maker is an advanced application intended to enable you to design 3D Text, buttons, logos. Features a large number of shapes and text template. There are reflections and texture animation effects, and a variety of quick tools, very easy to use.
You can choose a variety of bevel and alignment, lighting can be adjusted, the shape can be interchangeable, very flexible. Can import the font shapes, and you can import SVG, and converted into three-dimensional shapes.
You can export the png, tiff, jpg, bmp format. 3D design software for many ordinary people may be unfamiliar, whenever we want to promote our image,web page or display text or graphics to add 3D effect, the mind may emerge 3Dmax complex or tedious Photoshop software operation Skills.
Here are some key features of "Aurora 3D Text & Logo Maker":
· The template has as many as hundreds of style options, and user-friendly operation, to save you a lot of work time and increase efficiency;
· Reflection, reflection, mixing, deformation texture, and other operations, metal, glass, plastic and other texture effects, so that your work will never lose a powerful 3D software;
· Hand shape, svg graphics and fonts graphic import, and import pictures and external model, the flexibility to use the software to easily respond to your various design needs.
Editing and special effects textures:
· the software specially designed for the advanced operator, making the text and the shape of the move, rotate, zoom, change the size is very convenient, all without using the value of the window, everything seems intuitive, creative.
· unlimited undo, making various attempts to become don't worry about.
· front and side color, material, texture of shape and text can be adjusted. Software contains dozens of texture library to choose from, coupled with the unique texture reflection, mirror, transparent effects, makes it easy to create metal, glass and other special effects.
· texture support zoom, move, rotate, etc. deformation, increase the flexibility of texture. In addition, we can easily create animated textures, the texture was more realistic.
· dozens of ways to free choice of bevels, bevel height can be freely adjusted to meet the needs of different shapes.
· the software provides three adjustable lighting modes
Home Page – http://www.presentation-3d.com/
---
Download freakshare
http://freakshare.com/files/7qo8rh9x/Aurora.3D.Text.Logo.Maker.13.05.03.rar.html
Download filefactory
http://www.filefactory.com/file/5fpli9tb0nkp/Aurora.3D.Text.Logo.Maker.13.05.03.rar
Download uploaded
http://ul.to/qtmos36a
Download 城通网盘
http://www.400gb.com/file/23348404
转载请注明:0daytown » Aurora 3D Text & Logo Maker 13.05.03 3D/logo动画制作