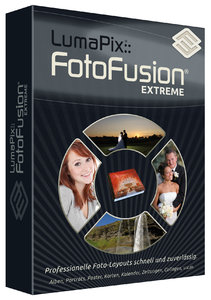 LumaPix发布的FotoFusion图像管理软件,更简便的操作和色彩校正功能,预览,提高打印质量等功能。
LumaPix FotoFusion 4.5 Build 66264 | 10 Mb
Create elegant and impressive wedding albums in minutes, not days. Create your own custom signature templates, or browse LumaPix's online catalog of designer wedding album styles. Tune your compositions with FotoFusion's best-of-breed tools for image layout; send low-res watermarked proofs to your bride by email, web gallery, print or pdf. Take full advantage of the flexibility of all-digital layout and give your customers the look they expect. FotoFusion's professional photography software is the best album layout tool that money can buy.
Features :

Wall-Mounted Portraits
Bigger is better – large-format output is the mark of a professional and the centerpiece of a high-end job. Any composition you create in FotoFusion can instantly be resized up to wall-mounted portrait size, with all text, mattes, and other elements being re-rendered at the final resolution; the quality of your own imagery will astound you. FotoFusion::Extreme professional photography software can produce output at any size – a 24×36″ portrait is a snap, trade show signage and even grand-format output are just a matter of increasing the output resolution of your work.

Senior Portraits
Get Senior work through your studio fast, while preserving your unique look: create custom portrait templates and populate them in minutes for each new customer. Upsell to larger-format wall-mounted portraits by simply re-rendering at a higher resolution or printing it at a larger size.

Creating your own gallery of styles to offer your clients, with space for your subject's name and graphics that reflect their unique personality, will show your clients at their best while running your studio's pipeline at full speed.

Composites & Yearbooks
For studios working with traditional tools, building a class composite is a slow and tedious process – often considered a 'necessary evil' to win a school's business. Using FotoFusion's photography grade studio software, class composites can be created quickly and easily – converting the process into a strength that differentiates your studio from the competition!

Team Sports
FotoFusion can handle everything from composite posters to trading cards to team yearbooks with ease and speed. Build templates reflecting your studio's style, then simply drop in team logos and player names to get sports customers through your business in record time. Tag players by school, by team, or any other keywords you like; FotoFusion v4 includes a keyword-driven photo organizer to make it simple to pull the team together.

Composite Cards / Z-Cards
Doing ZCards for actresses, actors, makeup artists or stylists? It's a snap with the right template. FotoFusion lets you browse a library of styles, drop in personal details for the subject, and print within minutes!
OS : Windows XP / Vista / 7 / 8
HomePage -‎ http://site.lumapix.com/