Wizards of the Coast发布了《万智牌2014:旅法师对决》令人兴奋的全新预告片,突出了工作室的戏剧处理能力,并增加了封印玩法。
对于没有接触过《万智牌收集:旅法师对决》、最新的封印玩法模式是一个巨大的创新。玩家将开放获得虚拟补充包,从获得的84张卡牌中开始游戏。封印此前在线下游戏和网游版本中都是独家玩法,而现在将会给单机玩家们体验打开一包新卡牌的体验。
封印玩法模式将成为核心互动体验,《万智牌2014:旅法师对决》将登陆PC,PSN,Xbox Live Arcade,iPad和Android平台。
---
Description: In the Magic 2014 Complete Bundle, the Base Game, its Expansion, its 3 Deck Packs and all 21 unlocked decks and 21 foil conversions, are now available in one package.
Unleash an arsenal of deadly creatures and devastating spells as you battle across the Multiverse. Once you've mastered the base game, prepare yourself for even more with the Expansion and Deck Packs included in this bundle.
In the Magic 2014 Expansion, enjoy five additional playable decks, five puzzling challenges, and ten single-player campaign levels. Put your spell-slinging skills to the test and try to defeat the guilds and unlock their decks!
Three additional Deck Packs allow you to play with six different decks in Campaign and Multiplayer play.
Ignite Your Spark!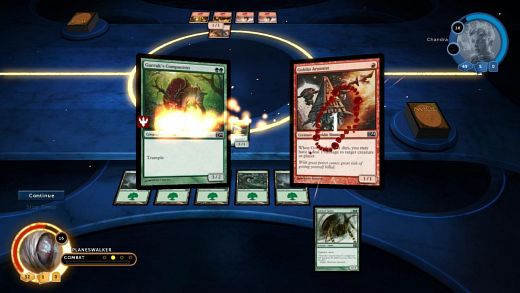 Magic 2014 – GOLD COMPLETE Includes 47 items:
Magic 2014 — Duels of the Planeswalkers
Magic 2014 "Firewave" Deck Key
Magic 2014 "Firewave" Foil Conversion
Magic 2014 "Masks of the Dimir" Deck Key
Magic 2014 "Masks of the Dimir" Foil Conversion
Magic 2014 "Enter the Dracomancer" Deck Key
Magic 2014 "Enter the Dracomancer" Foil Conversion
Magic 2014 "Hunter's Strength" Deck Key
Magic 2014 "Avacyn's Glory" Deck Key
Magic 2014 "Avacyn's Glory" Foil Conversion
Magic 2014 "Mind Maze" Deck Key
Magic 2014 "Mind Maze" Foil Conversion
Magic 2014 "Deadwalkers" Deck Key
Magic 2014 "Deadwalkers" Foil Conversion
Magic 2014 "Chant of Mul Daya" Deck Key
Magic 2014 "Chant of Mul Daya" Foil Conversion
Magic 2014 "Sliver Hive" Deck Key
Magic 2014 "Sliver Hive" Foil Conversion
Magic 2014 "Guardians of Light" Deck Key
Magic 2014 "Guardians of Light" Foil Conversion
Magic 2014 – Expansion Pack, Magic 2014 "Dodge and Burn" Deck Key
Magic 2014 "Dodge and Burn" Foil Conversion
Magic 2014 "Lord of Darkness" Deck Key
Magic 2014 "Lord of Darkness" Foil Conversion
Magic 2014 "Hall of Champions" Deck Key
Magic 2014 "Hall of Champions" Foil Conversion
Magic 2014 "Sylvan Might" Deck Key
Magic 2014 "Sylvan Might" Foil Conversion
Magic 2014 "Sword of the Samurai" Deck Key
Magic 2014 "Sword of the Samurai" Foil Conversion
Magic 2014 – Deck Pack 1
Magic 2014 – Deck Pack 2
Magic 2014 – Deck Pack 3
Magic 2014 "Hunting Season" Deck Key
Magic 2014 "Hunting Season" Foil Conversion
Deck Unlock – "Enchanter's Arsenal"
Foil Conversion – "Enchanter's Arsenal"
Deck Unlock – "Up to Mischief"
Foil Conversion – "Up to Mischief"
Magic 2014 "Bounce and Boon" Deck Key
Magic 2014 "Bounce and Boon" Foil Conversion
Magic 2014 "Warsmith" Deck Key, Magic 2014 "Warsmith" Foil Conversion
Magic 2014 "Unfinished Business" Deck Key
Magic 2014 "Unfinished Business" Foil Conversion
Magic 2014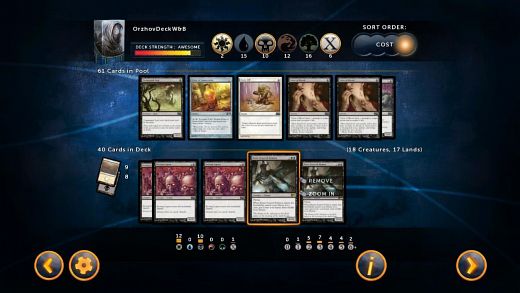 Publisher: Wizards of the Coast LLC,
Developer: Stainless Games
Genre: Strategy
Release Name: Magic.2014.Gold.Complete-PLAZA
Size: 1.27 GB
Links: Homepage – Steam – NFO
---
Download rapidgator
http://rg.to/file/8fa66cd0fd1648ce1de40748a4d8c980/Magic.2014.Gold.Complete-PLAZA.part1.rar.html
http://rg.to/file/0d7773a22f0337cb3820d2fe4e8e6f7a/Magic.2014.Gold.Complete-PLAZA.part2.rar.html
Download uploaded
http://uploaded.net/file/1g8g3vb0/Magic.2014.Gold.Complete-PLAZA.part1.rar
http://uploaded.net/file/e4xd4isb/Magic.2014.Gold.Complete-PLAZA.part2.rar
Download 百度云
http://pan.baidu.com/s/1eQy2FOe