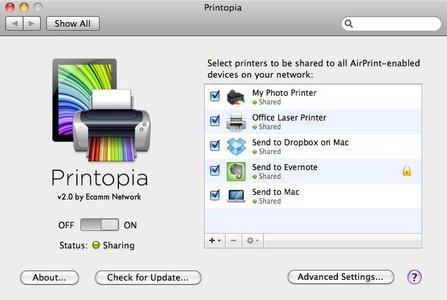 Printopia是一款支持Mac向iPhone、iPad、iPod touch等iOS设备,通过无线联网或直接相连进行打印输出的无限共享打印机的实用工具。
在苹果发布AirPrint技术后,人们遗憾的得知该技术仅适用少数惠普打印机。Printopia改变了这一局面,该工具会在在系统属性窗口显示,将打印任务发送到用户拥有的任意打印机,应用要求Wi-Fi网络连接。
 通过Printopia,可让你的iPhone、iPad、iPod touch 通过 AirPrint 功能将文档、页面或是照片通过同一局域网内的Mac打印出来——当然前提是你得有台已经安装了打印机的Mac。
---
Printopia 2.1.10 | Mac Os X | 3.5 MB
Printing from your iPhone or iPad is easier than you've ever imagined. Run Printopia on your Mac to share its printers to your iPhone, iPad or iPod Touch. Add unlimited virtual printers to save print-outs to your Mac as PDF files.
The Features You'll Love: 
Wireless Printing To Your Mac's Printers
Whether you have an inkjet printer plugged into your Mac, a laser printer plugged into your router or even a network printer, if your Mac can print to it, Printopia will share it. Is your printer plugged into your AirPort or Time Capsule? No problem. Printopia translates for your printer, allowing it to speak to your iPhone or iPad even if it's not an AirPrint-compatible printer. Printopia even supports many password-protected printers.
Easy, Instant Set-up
Ecamm puts ease of use first. Double-click to install Printopia, and within seconds see most any connected printers on your iPhone, iPad or iPod Touch. You'll also see Printopia's "Send To Mac" and "Send To Dropbox on Mac" virtual printers. That's it!
Power When You Need It
Behind Printopia's simple interface lies a ton of advanced features to customize your mobile printing experience. Configure printer settings, such as paper size, print quality and color options. Set up virtual printers to save files anywhere, or send files directly to a Mac app. 
Serious Security For Privacy and Peace of Mind
With the addition of password protection for your printers, Printopia is a great solution for a shared environment such as an office of classroom. Industry standard encryption protects your print jobs between your iOS device and your Mac.
Save Paper With A Printopia Virtual Printer
Add unlimited "Send To Mac" virtual printers to your network. This lets you "print" a file directly to your Mac or even send files directly to a Mac app such as iPhoto and Evernote. No need to waste paper next time you need to print a confirmation page. Keep your files organized by configuring multiple virtual printers with different save destinations.
Print To Your Mac's Dropbox Folder
Dropbox.com users can print PDF and JPG files directly to the Mac's Dropbox folder. Dropbox will take care of syncing your printouts for access anywhere you go. 
Works With Leopard and PowerPC Macs
Leopard (Mac OS X 10.5) and PowerPC Mac users won't get left out in the cold. Printopia is happy to serve you.
No Need To Modify Your Operating System
Beware of printing solutions that re-configure your Mac's printing system. Printopia runs independently from printer sharing, and does not modify your Mac or iOS operating system in any way.
Compatibility Note: Printopia is designed for use with the latest version of Apple's iOS and OS X. It has been fully tested with iOS 4.2 and newer and Mac OS X 10.5.8 and newer including Mac OS X 10.6, 10.7 and 10.8 (Mountain Lion). Ecamm cannot guarantee compatibility with future iOS and Mac OS X releases.
---
Download freakshare
http://freakshare.com/files/fe3phhw1/Utopia.2.1.10.zip.html
Download filefactory
http://www.filefactory.com/file/2w1jad6qdhp7/Utopia.2.1.10.zip
Download uploaded
http://uploaded.net/file/xw41z07j/Utopia.2.1.10.zip
Download 城通网盘
http://www.400gb.com/file/23673567
Download 百度云
http://pan.baidu.com/share/link?shareid=2127263446&uk=909467506