一些小型的飞行昆虫被蜘蛛网黏住了,你必须要想想办法,解救那些小昆虫,不然它们就要落入蜘蛛的嘴里了!
很明显,这是一款卡通风格的益智游戏。游戏在蜘蛛网上进行,网中会有被黏住的小昆虫,而蜘蛛会沿着蜘蛛网的路线,来吃掉它们。在那之前,你需要利用一些手段,来阻止那些蜘蛛。比如用火、剪刀等等 道具。但是要注意,那些道具的使用次数是有限,你必须要想好再下手,不要浪费机会。
---
DeBTPDA has released another new game "Greedy Spiders" for Android. Very addictive and fun game!
Description: The Spiders have come to town and they are planning on dining their friendly neighbors.
Use your intelligence in this exciting puzzle game and prevent the Spiders from pulling off their plan.
Carefully plan your escape from Wild Hills, Scary Crypts and many other scenarios to reach the final cut scene.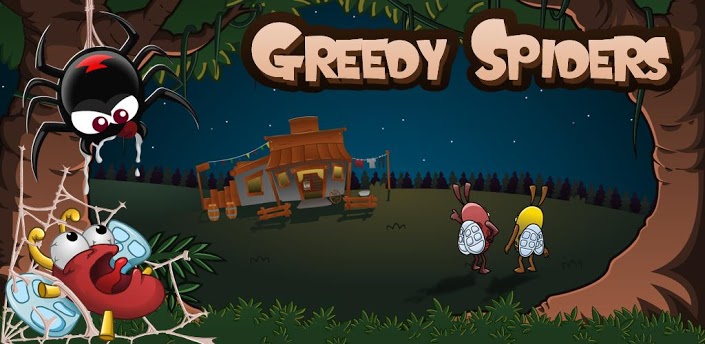 Features:
178 challenging levels!
7 different types of bugs!
Warning: extremely addictive!
Delightful and funny graphics.
More scenarios and levels coming soon!
Release Name: Greedy.Spiders.v2.3.2.Android-DeBTPDA
Size: 29.85 MB
Links: Google Play 
---
Download freakshare
http://freakshare.com/files/xeyu06bm/Greedy.Spiders.v2.3.2.Android-DeBTPDA.rar.html
Download filefactory
http://www.filefactory.com/file/67n8aoxtn265/Greedy.Spiders.v2.3.2.Android-DeBTPDA.rar
Download uploaded
http://uploaded.net/file/v6m40jes/Greedy.Spiders.v2.3.2.Android-DeBTPDA.rar
Download 城通网盘
http://www.400gb.com/file/23531648
转载请注明:0daytown » 贪婪的蜘蛛2 Greedy Spiders v2.3.2 Android-DeBTPDA