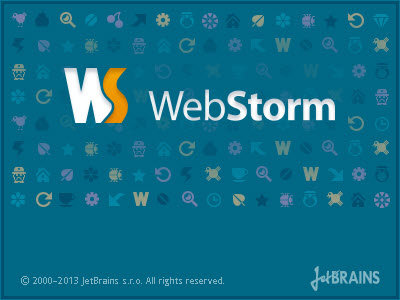 WebStorm 是jetbrains公司旗下一款JavaScript 开发工具。被广大中国JS开发者誉为"Web前端开发神器"、"最强大的HTML5编辑器"、"最智能的JavaSscript IDE"等。
与IntelliJ IDEA同源,继承了IntelliJ IDEA强大的JS部分的功能。
功能
关于JaveScript
· 基于DOM,特定浏览器完成
· 编码导航和用法查询
· 支持ECMAScript
· 支持CoffeeScript
· 支持结点
· JavaScript重构
· JavaScript单元测试
· 代码检测和快速修复
· JSLint/JSHint
· 基于 Mozilla的JavaScript调试器
编码以外的功能
· 批量代码分析
· 编码语言混合或内混
· 拼写检查器
· 重复代码检测器
关于HTML/HTML5/CSS
· 支持HTML5
· 检验和快速修复
· Zen编码
· 显示内容
· 显示应用的风格
便捷的环境
· HTML5样本文件和其他Web应用程序模板
· FTP和远程文件同步
· 集成了版本控制系统
· 本地记录
---
JetBrains WebStorm 6.0.2 Build 129.664 | 114.9 Mb
The best HTML, CSS and JavaScript editor is at your fingertips. Navigate through files easily. Use relevant autocompletion for everything in your code. Get notified about code problems on the fly. Complicated languages mixtures with HTML markup or SQL inside a JavaScript? Check how a modern IDE such as WebStorm handles this.
Open an existing folder, check out the code from a VCS, or even specify your FTP to download and auto-sync your files with. You're up and running in moments. Watch this short demo on getting started.
Code editor with an IQ of its own
The editor understands your code, its structure and offers you code completion that you expect. Full coding assistance is offered even for language mixtures such as HTML inside JavaScript strings.
Endless productivity growth potential
Core refactoring saves time, but code snippets, such as Zen coding or Emmet, let you code even faster—almost at the speed of light. You'll love keyboard access to any IDE action, not to mention the killer Live Edit feature.
Code quality analysis
Hundreds of language specific code inspections analyse the whole project as you type and show you the identified problems before you open the browser. Intelligent quick-fixes offer instant solutions.
Cutting edge web dev technologies
HTML5, Node.js, TypeScript, CoffeeScript, ECMAScript Harmony, LESS, Sass, Jade, JSLint/JSHint, Google Closure Compiler JSDoc annotations… Do you need more names?
Transparent VCS integration
Git, SVN, Mercurial are just the top 3 that WebStorm supports. The unified UI helps you do your job no matter where you keep your code. Local history keeps your files safe even if you use no VCS.
Cross-platform experience
Use the same environment on Windows, Mac OS or Linux with your single license key.
Home Page – http://www.jetbrains.com
---
Download freakshare
http://freakshare.com/files/iqxnlki6/JetBrains_WebStorm_6.0.2_Build_129.664.rar.html
Download filefactory
http://www.filefactory.com/file/2rkxfn7a47xp/JetBrains_WebStorm_6.0.2_Build_129.664.rar
Download uploaded
http://ul.to/9nyiu7xo
Download 城通网盘
http://www.400gb.com/file/23224037
Download 百度云
http://pan.baidu.com/share/link?shareid=434345081&uk=909160512
转载请注明:0daytown » JetBrains WebStorm 6.0.2 Build 129.664 Web前端开发