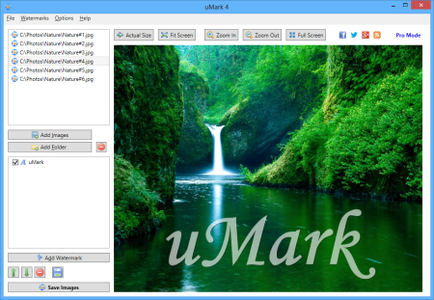 uMark  让你可以在你的数码照片上添加一个文本或者图像水印。你可以从9种预定义的水印配置当中进行选择,设置定制的字体,尺寸和颜色,以及透明度。免费版本可以最多同时批量处理50张图像。加水印的图像可以被保存到一个新的文件夹当中,因此你的原始图像将保持不变(加水印的图片拷贝删除了它们的 EXIF 数据)。
uMark Professional 添加一个文本或者图像水印到你的数码照片。你可以完全定制水印的位置,设置定制的字体,字号和颜色,以及透明度。你还可以插入特别的字符。
---
Uconomix uMark Professional 4.2 | 9.7 MB
uMark is a useful program that enables you to add a text or image watermark to your digital photos. You have the possibility to customize the placement of your watermark or to set a custom font, size and color, as well as opacity level. uMark is an utility for marking the images and photos with a copyright notice or your company logo or both.
Key features of uMark Professional:
Add text and image watermarks
Add your name or copyright notice along with symbols like © ® £ ¥ or your logo as watermarks on your photos. Stamp your authority over your images.
Batch watermarking
Watermark hundreds of photos in one go. Add watermarks to multiple photos in minutes with the click of a button.
Shapes and QR codes
Add various shapes and fill them with solid or gradient colors. Add QR codes as watermark on your photos.
Border and shadow
Apply borders to your photos. Add a shadow to make the photos stand out.
Fully customizable watermarks
Choose the font, font size, style and color for your watermarks. Set custom transparency level, add shadows or rotate watermarks to your taste.
Place watermarks where you want
Select from one of the 9 predefined positions to place your watermark or put the watermark at your desired location on the image by specifying top, left coordinates or by drag and drop.
Live preview
View the real time preview of the watermark right on the photos you are watermarking so there are no surprises afterwards. Know precisely how the watermarked images will look beforehand.
Add EXIF and other metadata as watermarks
Put a date stamp on your photos with uMark's EXIF watermarks. Add camera information or other technical details as watermarks. Put the image name, location and parameters like size and DPI in watermarks.
Save watermarks for later use
Create your perfect watermark once and save it for repeated use. Watermark your next batch of photos within seconds without having to start from scratch.
Watermark tiling for maximum protection
Repeat your watermark horizontally or vertically or both to cover the entire photo so that no single part of the photo can be used without your consent.
Multi platform
Whether you are using Windows PC or a Mac. uMark is available for you.
Multilingual
uMark supports 8 languages – Dutch, English, French, German, Italian, Portuguese, Spanish and Turkish. Use uMark in your language.
Home Page – http://www.uconomix.com/Default.aspx
---
Download freakshare
http://freakshare.com/files/qjohzkvf/Uconomix_uMark_Professional_4.2.rar.html
Download filefactory
http://www.filefactory.com/file/1nc9ocl6ik9l/Uconomix_uMark_Professional_4.2.rar
Download uploaded
http://ul.to/9excgfaz
Download 城通网盘
http://www.400gb.com/file/23076628
Download 百度云
http://pan.baidu.com/share/link?shareid=1383237455&uk=909160512