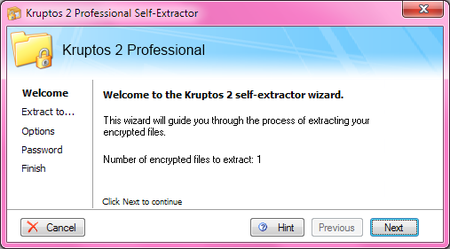 Kruptos 2 是一个快速且易于使用的免费档案或资料夹加密工具,它除了可以用来保护计算机上重要机密的档案或资料夹外,它同时也可以用来保护随身储存装置上的档案或数据夹,例如:随身碟。它同时也提供了一个档案删除工具,可让我们安全无虞的删除重要机密。另外,它也提供了建立已加密的自我解压文件,只要在知道密码的情况下,既使计算机没有安装Kruptos 2,一样可以一窥重要机密。
---
Kruptos 2 Professional 3.0.0.28 | 17.3 MB
Kruptos 2 Professional file encryption software is the easiest way to protect your private data, such as photos, personal information, credit card data, tax returns and other private files. Quickly and safely encrypt your photos, movies, documents or any other files. Once encrypted, only you can open your private files using your password. Safely transport your encrypted files and documents on portable USB devices so if they are lost or stolen your data is safe and secure.
Instant file and folder locking
Prevents identity theft
Portable drive and Laptop protection
Securely send your files over the internet
No complex options or settings, all you need is a password and a few clicks.
File Encryption Software
Filename Encryption
Kruptos 2 Professional allows you to disguise your filenames as part of the file encryption process.
Safe and Secure
Uses proven and unbroken 256bit file encryption algorithms, no hidden back doors or secret keys.
Easy to use
File encryption made easy
There are no complex options or settings. Once installed, all you need is a good password and a few clicks!
Microsoft Windows integration
Integrates seamlessly into Microsoft Windows explorer allowing you to protect your files in as little as 2 clicks.
Double-click integration
Kruptos 2 Professional will automatically re-encrypt your file when you're finished editing so you don't have to worry about your file being left unsecured.
Password strength indicator
Provides instant feedback about the strength of your password and warns when entering common, weak passwords.
Encryption tools
Permanent File Deletion
Kruptos 2 Professional uses industry standard techniques to permanently destroy your file so common un-delete tools cannot recover them.
Encrypted backups
Backup your important files to a Zip file that contains your encrypted documents. [more]Create self-extracting files
Create self-extracting encrypted files that are accessible from any computer, all you need is the correct password.
Command line tools
Includes comprehensive command line utility that allows you to Encrypt, Decrypt and Shred your documents all from the command line.
Home Page – http://www.kruptos2.co.uk/