Adobe Photoshop Lightroom软件是当今数字拍摄工作流程中不可或缺的一部分。现在可以快速导入、处理管理和展示图像。其增强的校正工具、强大的组织功能以及灵活的打印选项可以帮助您加快图片后期处理速度,将更多的时间投入拍摄当中去。
Adobe 公司最近发布了 Lightroom 5,AdobeLightroom是一种适合专业摄影师输入,选择,修改和展示大量的数字图像的高效率软件。这样,用户可以花费更少的时间整理和完善照片。它界面干净整洁,可以让用户快速浏览和修改完善照片以及数以千计的图片。
2013年Adobe公司发布了Lightroom 5,新版本加入了径向滤镜、修复工具、镜头变形自动校正等新功能。

---
Description:
Adobe Lightroom software helps you bring out the best in your photographs, whether you're perfecting one image, searching for ten, processing hundreds, or organizing thousands.
Create incredible images that move your audience. Experiment fearlessly with state-of-the-art nondestructive editing tools. Easily manage all your images. And showcase your work in elegant print layouts, slide shows, and Web galleries, as well as on popular photo-sharing sites. All from within one fast, intuitive application.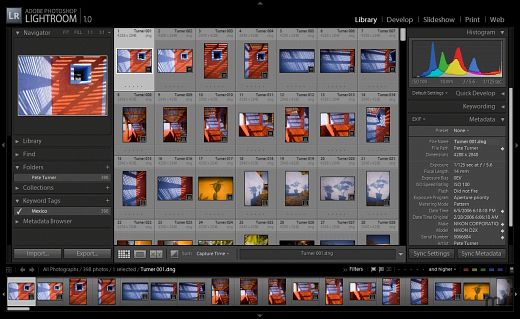 Version 5.0:
New features:
Advanced Healing Brush: Easily remove objects and fix defects — even those with irregular shapes such as threads or lint — with a single brush stroke. Take precise control over what's being removed as you make unwanted objects just disappear.
Upright: Straighten tilted images with a single click. Upright analyzes images and detects skewed horizontal or vertical lines. You choose one of four correction methods, and Upright can even straighten images where the horizon is hidden.
Radial Gradient: Lead your viewer's eye through your images with more flexibility and control. The radial gradient tool lets you create off-center vignette effects, or multiple vignette areas within a single image.
Offline editing with Smart Previews: Easily work with images without bringing your entire library with you. Just generate smaller stand-in files called Smart Previews. Make adjustments or metadata additions to Smart Previews and your changes will be automatically applied to the full-size originals later.
Video slideshow sharing: Easily share your work in elegant video slideshows. Combine still images, video clips, and music in creative HD videos that can be viewed on almost any computer or device.
Improved photo book creation: Create beautiful photo books from your images. Lightroom includes a variety of easy-to-use book templates, and now you can edit them to create a customized look. Upload your book for printing with just a few clicks.
Release name:
Adobe.Photoshop.Lightroom.v5.0.Multilingual.Incl.Keymaker-CORE
Adobe.Photoshop.Lightroom.v5.0.x64.Multilingual.Incl.Keymaker-CORE
Size: 390MB / 411MB
Links: Homepage
---
转载请注明:0daytown » Adobe Photoshop Lightroom v5.0 X32/x64 Multilingual