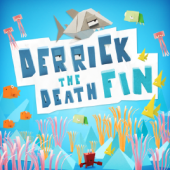 折纸鲨鱼这款游戏是一款以折纸鲨鱼做主角的街机风格横版动作游戏,游戏中玩家控制的小鲨鱼被人类夺去了父母,做成了罐头,他发誓要为父母报仇,于是游遍五大洲四大洋,寻找仇人要把它碎尸万段。画面属于3D卡通风格的,鲨鱼可以通过吃小鱼保证自己的体力,这样才能游到每一关的关卡终点。游戏中,玩家是要达到一定的飞轮圈和吃钻石才能开启下一大关。
  游戏就像是一个在和时间赛跑的游戏,玩家需要时刻注意上方的饥饿度,这就意味着你需要寻找到食物,并且牢记如何它们的位置,别随便浪费你的食物。
  后期的玩法将会以毁灭各种捕鱼船为主,通过炸弹或者其他东西给海面上的捕鱼船造成致命攻击,完成你报仇的夙愿。
  游戏操作:
  鼠标=控制方向;
  鼠标左键=吃鱼;
  鼠标右键=冲刺吃鱼;
  SHIFT键=加速。
---
DEFA with another great release, this one is just incredible, don't sleep on it!
Description:
Derrick the Deathfin is the world's first underwater papercraft videogame!
Enter an irreverent aquatic world full of paper, goofy fish, paper, arcade action, paper, wanton destruction, and paper! Join Derrick on his epic quest to decimate everything he sees under the guise of avenging the death of his parents.To succeed you must fight, jump, race and eat your way through a myriad of confusingly textured circumstances. Good luck!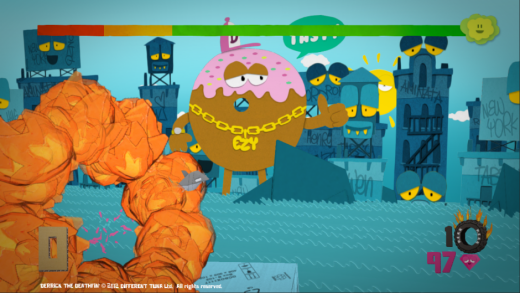 Publisher: Different Tuna
Developer: Different Tuna
Genre: Arcade
Release name: Derrick.the.Deathfin-DEFA
Size: 296MB in 41F
Links: Homepage 
---
Download filefactory
http://www.filefactory.com/file/1gujak5ozqeb/Derrick.the.Deathfin-DEFA.rar
Download freakshare
http://freakshare.com/files/ulhng8qz/Derrick.the.Deathfin-DEFA.rar.html
Download uploaded
http://ul.to/9zatjy1y
Download 城通网盘
http://www.400gb.com/file/22791942