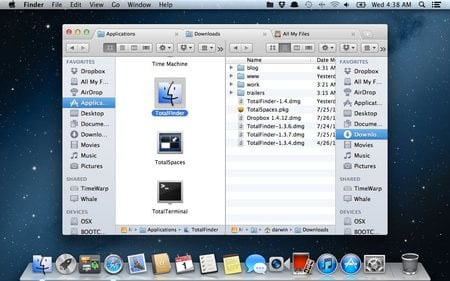 TotalFinder是一个Finder增强插件,用来给Mac自带的资源管理器Finder增加Tab等其他个性化功能。
Finder是Mac的资源管理器,本身已经习惯了Finder,但是有时候开个十几个Finder窗口的,也觉得挺烦人。基本上如果你也有这个问题,就可以试试TotalFinder。TotalFinder可以跟Chrome一样开一堆Tab在一个窗口里。
TotalFinder 有五大功能,多页签、显示系统档案、双视窗、目录集中在最上面、复制贴上功能,还有一个没啥用的Visor 功能。
之前Mac党介绍过一个和TotalFinder相似的产品XtraFinder。他们俩基本功能都差不多,基本都能满足增强Finder的需求。你也可以尝试一下。
---
TotalFinder 1.4.10 | Mac Os X | 6.1 MB
TotalFinder adds tabs, hotkeys, and other tweaks to the Mac OS X Finder.
Implemented features: 
TABS like in Google Chrome!
Add a dual-panel mode (like in good old Norton Commander)
Make Finder available system-wide on a hot-key (like Visor)
Stop creating .DS_Store litter
Show the folders always on top
Future goals: 
Add a better keyboard shortcuts (for keyboard-oriented freaks like me)
Enable a cooperation mode with Terminal.app (for command-line lovers)
Add user friendly MacFUSE support
And what about better git/svn/hg integration?
And more satisfaction!
Requirements
Mac OS X 10.7 or later.
---
Download freakshare
http://freakshare.com/files/sysu472g/TFi.1.4.10.zip.html
Download filefactory
http://www.filefactory.com/file/582284igxlyp/TFi.1.4.10.zip
Download 城通网盘
http://www.400gb.com/file/22593366