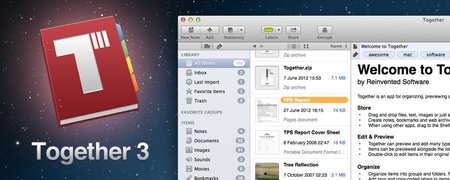 Together 3.0.4 | Mac Os X | 7.7 MB
Together lets you keep everything in one place. Text, documents, images, movies, sounds, web pages and bookmarks can all be dragged to Together for safe keeping, tagged, previewed, collected together in different ways and found again instantly.
New in Together 3
Together 3 adds thumbnails for items, tab exposé for viewing all open tabs at once, stationery for creating any kind of file, navigation history, an inbox for un-filed imports, autosave and versions, along with improved favorites, previews and Shelf, all wrapped up in a smart new design. And, exclusively in the Mac App Store version, Together can now store libraries in iCloud.
Drag, Drop, Done
Just about anything can be saved in Together. Drag to the main window or the Shelf, a tab on the side of the screen that slides out to show your folders and groups, and which can be accessed from any application. You can also import from other apps with a global import hot key, using system services or bookmarklets in your web browser.
iCloud
Exclusive to the Mac App Store version, Together 3 can store libraries in iCloud and share them across all your Macs. Changes made on one Mac will appear automatically on others within moments. Stationery is also synced between Macs.
Save Everything
Create notes for those bits of information you need to keep somewhere, or save web pages as web archives or PDFs, which look identical to the original page with background images and clickable links. Any kind of file can be created in the app using stationery, and Together can show previews of just about anything using Quick Look technology that's built into your Mac.
Organize
Together has unparalleled features for organizing your items with tags, color-coded labels, hierarchical folders, groups and smart groups that stay organized for you. Together's tag browser goes beyond tag management with system tags, automatically created from labels, ratings, folders and groups, to provide an alternate view of your library.
Love Thy Shelf
Dragging to the Shelf shows groups and folders as targets for storing new items, but clicking the tab opens the Shelf in a different mode where you can browse and search your library, a Favorites section for quick access to groups and items, and a Quick Note section for making notes directly in the Shelf. The Shelf lives on the side of the screen, and is available from within any application.
Find It Fast
Together searches as you type and uses Spotlight for searching the content of all kinds of files, and because the search is focused on your library you get results fast. Together's search can be as broad or narrow as you wish, from searching everything in your entire library to a certain set of attributes within a specific group at the click of a mouse.
Home Page: http://reinventedsoftware.com/together/
---
Download freakshare
http://freakshare.com/files/q955s3g9/T.3.0.4.zip.html
Download filefactory
http://www.filefactory.com/file/3qofxoq89sz/T.3.0.4.zip
Download 城通网盘
http://www.400gb.com/file/22593365
转载请注明:0daytown » Together 3.0.4 MacOsX