比较囧的游戏设定,游戏中玩家控制的是一些方块,而长方形的方块是有名字的,他叫托马斯。
是一块孤独的长方形方块,他为了找朋友脱离单身,大家都来帮帮他吧。
游戏玩法十分简单,你只要控制汤玛斯在每关之中移动到虚线处就能过关,不久之后,当汤玛斯找到朋友,你就要协调好方块之间的移动顺序,互相合作,为托马斯找到更多的朋友。
Description: Thomas Was Alone, and then, Well, he Wasn't. Thomas Was Alone is an indie minimalist 2D platformer about friendship and jumping and floating and anti-gravity. Guide a group of rectangles through a series of obstacles, using their different skills together to get to the end of each environment. Listen to awesome music by David Housden.
It's hip to be a square (or any other kind of parallelogram) in Thomas Was Alone, a minimalistic puzzle-platformer. Start out as Thomas, a red rectangle, then fall and jump through 100 levels as you discover new friends along the way. You'll run into John, a tall, lanky, and helpful yellow rectangle, Sarah, a pint-sized curious purple rectangle with a powerful double jump, and more, as you fall in love with the characters in this simple but endearing game of quadrilaterals.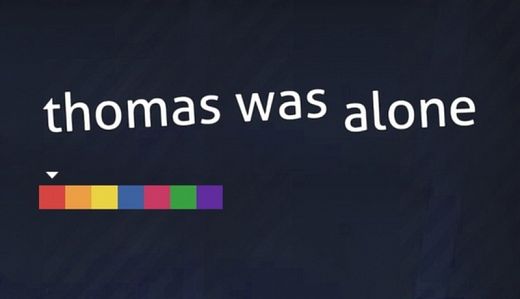 Reviews:
– Thomas Was Alone has earned its place among such classic platformers as Manic Miner and VVVVVV. Yes, it's this good. – Indiegames.com
– "For all its charm, Thomas is more than just the super-minimalist-yet-incredibly-engaging tales of a few plucky AIs. It's the story of games. Of how they get made and played, of the joys and frustrations they bring and of the thousands of tiny iterative processes that go into evolving single titles and the entire medium into their best forms." – Evan Narcisse, Kotaku
– "It proves that you don't need tens of millions of dollars and hundreds of staff to make a game story worth telling, just a good hook, an engaging vision, and a whole lot of heart." 9/10 – Josh Tolentino, Destructoid
– "The understated aesthetic design and unusual co-op puzzles will absorb you for the game's duration – the wit and personality of the writing, though, will stay with you for much longer." 8/10 – Keza MacDonald, IGN
Features:
Beat 100 levels, and uncover the story of the AIs.
Utilize the unique skills of 10+ characters.
Immerse yourself in David Housden's critically acclaimed procedural score.
Chuckle along to Danny Wallace's narration.
Rlsname: Thomas.Was.Alone-WaLMaRT
Size: 134.5 MB
Links: HOME 
---
Download filefactory and Crack
http://www.filefactory.com/file/26edcmn8qwej/Thomas.Was.Alone-WaLMaRT.zip
Download freakshare and Crack
http://freakshare.com/files/sk2sdke2/Thomas.Was.Alone-WaLMaRT.zip.html
Download Uploaded and Crack
http://uploaded.net/file/70hndb5b/Thomas.Was.Alone-WaLMaRT.zip
Download 城通网盘 and Crack
http://www.400gb.com/file/22362166