IronCAD 是美国IronCAD公司的产品,对于复杂的燃气轮机,包括了复杂曲面造型【涡轮叶片】,大量的紧固件排布【燃烧室】,和纵横交错的管线【包括油路和电路】,很快就能让你搞定,说明了 IronCAD 提供的特色很多,新的拖放 3D环境让你更容易使用。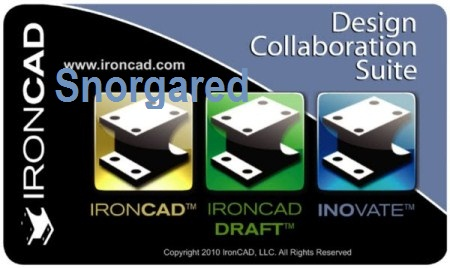 IronCAD为用户提供了创新设计的工具,在造型、协同、绘图等方面具有更强的功能。它既可单独用于创新设计,又可作为大型的协同解决方案的构件。  
 
IronCAD推出的一款针对桌面用户的3D产品设计,用于进行创建、修改、审核、沟通3D设计的工具。它是一款真正的从概念到产品的3D设计协作工具。
它的基本的拖-放式3D设计环境提供了无可匹敌的易操作性、速度和设计灵活性和强大的制造能力。它是多功能的3D概念设计与沟通工具。
---
IronCAD Design Collaboration Suite 2012 HF1 14 2012 (x86) [2012, ENG] | 1GB
IronCAD's mission has and continues to be the creation of award winning 3D Design Collaboration Solutions that lead the industry in their ease-of-use and design productivity. If you are interested in the fastest and easiest way to use 3D design solutions available today, IronCAD is the obvious choice. 
The IronCAD Design Collaboration Suite is a complete range of products that include IRONCAD, INOVATE, IRONCAD DRAFT, and IronCADs latest addition IRONCAD COMPOSE. This integrated suite provides real collaboration between 2D and 3D enabling users to communicate design data seamlessly throughout their design process within their organization and beyond.
IronCAD Design Collaboration Suite Products: 
IRONCAD – Utilizing a breakthrough approach to creative design, IRONCAD is the productivity leader for moving creative ideas into 3D reality. IRONCAD offers a level of design freedom that is unmatched in the industry today. It is the tool of choice for design engineers when deadlines are tight and a high degree of unanticipated change is expected. IRONCAD's drag and drop 3D environment provides a fresh alternative to traditional history-based parametric systems; delivering unmatched ease of use and superior productivity. …more.IRONCAD DRAFT- For decades users have needed to choose between working in 2D or 3D, today there is another option Historically, designers have wanted to work in 2D. They prefer the ability to control and craft their drawings and to detail them clearly and efficiently. To these users, drafting is an art form, not merely a series of lines on a piece of paper. While the evolution of 3D modeling has made designing products easier for some, for many working in 3D is not a necessity but it is beneficial.
Today, IronCAD offers IRONCAD DRAFT, an extremely powerful 2D mechanical drafting tool with an easy to learn, industry standard user interface and a unique 3D integration capability, enabling users work in 2D but also to view, leverage, analyze, render and reference 3D model data created by suppliers customers and colleagues….more.
IRONCAD COMPOSE – Invaluable for anyone who needs to interrogate or display 3D solid geometry. From designers and developers wishing to share a concept or idea with their extended teams to a sales person in the field developing and presenting configuration options to a client at the point of sale. Take measurements on the fly, show renderings, and even present animations all in real-time….more.
Translators – With IronCADs Design Collaboration Suite, engineers communicate more freely. Dual ACIS and Parasolid kernels allow precise, error-free import and export of native SAT and XT files as well as common file formats like IGES, CATIA V4, and STEP. Add the low-cost TRANS bundle and even access native formats such as CATIA V5, Pro/E (Creo), UG/NX, SolidWorks, and Inventor…..more.
Version: 14 Build 2012
Developer: ironcad
Bit: 32bit
Language: English
Medicine: Present
System requirements: xp, win7
---
转载请注明:0daytown » ronCAD Design Collaboration Suite 2012 HF1 14 2012