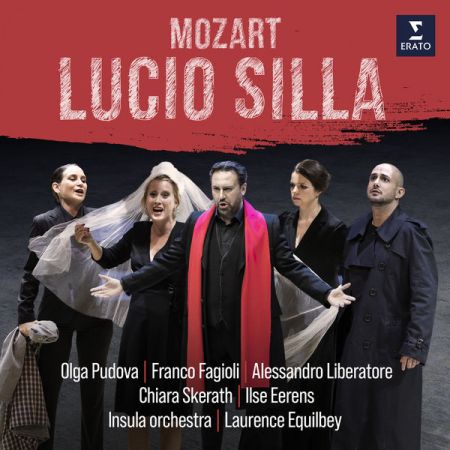 WEB FLAC (Tracks) 594 MB | Cover | 02:06:38
Classical | Label: Warner Classics
Kick-off of the Festival Mozart Maximum at La Seine Musicale with this youthful work that shakes up the codes of the opera seria. In the Roman dictator Lucio Silla's passion for Giunia, wouldn't the teenage Wolfgang have found the amorous emotions he was living then? Hence this inimitable blend of depth and lightness, intensity and grace. This score, which prefigures Romanticism, is here carried by the countertenor Franco Fagioli, worthy heir to the castrati, in a layout by Rita Cosentino.
Tracklist
1. Accentus – Laurence Equilbey – Lucio Silla, K. 135, Overture, Pt. 1: Molto allegro
2. Accentus – Laurence Equilbey – Lucio Silla, K. 135, Overture, Pt. 2: Andante
3. Accentus – Laurence Equilbey – Lucio Silla, K. 135, Overture, Pt. 3: Molto allegro
4. Accentus – Laurence Equilbey – Lucio Silla, K. 135, Act 1: "Oh ciel, l'amico Cinna" (Cecilio, Cinna)
5. Accentus – Laurence Equilbey – Lucio Silla, K. 135, Act 1: "Vieni ov'amor t'invita" (Cinna)
6. Accentus – Laurence Equilbey – Lucio Silla, K. 135, Act 1: "Dunque sperar poss'io" (Cecilio)
7. Accentus – Laurence Equilbey – Lucio Silla, K. 135, Act 1: "Il tenero momento" (Cecilio)
8. Accentus – Laurence Equilbey – Lucio Silla, K. 135, Act 1: "Se lusinghiera speme" (Celia)
9. Accentus – Laurence Equilbey – Lucio Silla, K. 135, Act 1: "Del genitor estinto" (Giunia)
10. Accentus – Laurence Equilbey – Lucio Silla, K. 135, Act 1: "Dalla sponda tenebrosa" (Giunia)
11. Accentus – Laurence Equilbey – Lucio Silla, K. 135, Act 1: "Un dittatore così s'insulta" (Silla)
12. Accentus – Laurence Equilbey – Lucio Silla, K. 135, Act 1: "Il desio di vendetta, e di morte" (Silla)
13. Accentus – Laurence Equilbey – Lucio Silla, K. 135, Act 1: "Morte, morte fatal" (Cecilio)
14. Accentus – Laurence Equilbey – Lucio Silla, K. 135, Act 1: "Fuor di queste urne dolenti" – "O del padre ombra diletta" (Chorus, Giunia)
15. Accentus – Laurence Equilbey – Lucio Silla, K. 135, Act 1: "Se l'empio Silla, o padre" (Giunia, Cecilio)
16. Accentus – Laurence Equilbey – Lucio Silla, K. 135, Act 1: "D'Eliso in sen m'attendi" (Giunia, Cecilio)
17. Accentus – Laurence Equilbey – Lucio Silla, K. 135, Act 2: "Il braccio mio non ritener" (Cecilio, Cinna)
18. Accentus – Laurence Equilbey – Lucio Silla, K. 135, Act 2: "Cecilio, a che t'arresti presso la tomba mia?" (Cecilio)
19. Accentus – Laurence Equilbey – Lucio Silla, K. 135, Act 2: "Quest'improvviso tremito" (Cecilio)
20. Accentus – Laurence Equilbey – Lucio Silla, K. 135, Act 2: "Al letto segui l'empio" (Cinna, Giunia)
21. Accentus – Laurence Equilbey – Lucio Silla, K. 135, Act 2: "Vanne. T'affretta" (Giunia)
22. Accentus – Laurence Equilbey – Lucio Silla, K. 135, Act 2: "Ah se il crudel periglio" (Giunia)
23. Accentus – Laurence Equilbey – Lucio Silla, K. 135, Act 2: "Ah sì, scuotasi omai" (Cinna)
24. Accentus – Laurence Equilbey – Lucio Silla, K. 135, Act 2: "Nel fortunato istante" (Cinna)
25. Accentus – Laurence Equilbey – Lucio Silla, K. 135, Act 2: "E puoi?" (Silla, Giunia)
26. Accentus – Laurence Equilbey – Lucio Silla, K. 135, Act 2: "D'ogni pietà mi spoglio perfida" (Silla)
27. Accentus – Laurence Equilbey – Lucio Silla, K. 135, Act 2: "Il mio germano" (Celia)
28. Accentus – Laurence Equilbey – Lucio Silla, K. 135, Act 2: "Quando sugl'arsi campi" (Celia)
29. Accentus – Laurence Equilbey – Lucio Silla, K. 135, Act 2: "In un istante oh come s'accrebbe il mio timor!" (Giunia)
30. Accentus – Laurence Equilbey – Lucio Silla, K. 135, Act 2: "Se gloria il crin ti cinse" (Chorus)
31. Accentus – Laurence Equilbey – Lucio Silla, K. 135, Act 2: "Nella prigion più nera traggasi il reo" (Silla)
32. Accentus – Laurence Equilbey – Lucio Silla, K. 135, Act 2: "Quell'orgoglioso sdegno" (Silla, Cecilio, Giunia)
33. Accentus – Laurence Equilbey – Lucio Silla, K. 135, Act 3: "Strider sento la procella"(Celia)
34. Accentus – Laurence Equilbey – Lucio Silla, K. 135, Act 3: "Se il cor di Silla contro al dovere" (Cinna)
35. Accentus – Laurence Equilbey – Lucio Silla, K. 135, Act 3: "De' più superbi il core" (Cinna)
36. Accentus – Laurence Equilbey – Lucio Silla, K. 135, Act 3: "Ah caro sposo… " (Giunia, Cecilio)
37. Accentus – Laurence Equilbey – Lucio Silla, K. 135, Act 3: "Pupille amate" (Cecilio)
38. Accentus – Laurence Equilbey – Lucio Silla, K. 135, Act 3: "Sposo… mia vita… " (Giunia)
39. Accentus – Laurence Equilbey – Lucio Silla, K. 135, Act 3: "Fra i pensier più funesti di morte" (Giunia)
40. Accentus – Laurence Equilbey – Lucio Silla, K. 135, Act 3: "Or l'atto illustre alfine decider dee" (Silla)
41. Accentus – Laurence Equilbey – Lucio Silla, K. 135, Act 3: "Il gran Silla" (Chorus, Tutti)
转载请注明:0daytown » Accentus – Laurence Equilbey – Mozart: Lucio Silla, K. 135 (2022)