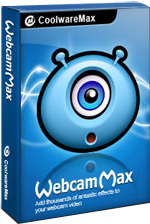 WebcamMax是一款全新的网络视频聊天软件。支持所有的网络视频软件,ICQ, AIM, MSN, Camfrog, Skype, Paltalk, Yahoo Messenger。支持超过1,000种效果,包括镶嵌效果, TV墙纸, 电影情景,水、烟雾、表情等。
---
Description: With WebcamMax, you can add videos, pictures and effects to virtual & real webcam and show them to others on messengers or do live stream on websites such as Ustream, JustinTV, etc. It works on all webcam programs (MSN, Yahoo, Camfrog, YouTube, ICQ, AIM, Skype, Paltalk, ANYwebcam, Stickam, etc.). You can add a variety of effects over webcam and change the properties by yourself; thousands of local & online are available and you can even create your own effects. You can do snapshots as well as record videos with effects and broadcast them on YouTube or your Blog. You can also do slideshows, share your screen with friends, play movies for them or trick them with a fake video. It enables PinP of which Webcam, Screen, Movie or Picture can be selected as source. WebcamMax will allow you to enable Doodling as well, and you can paint on the video box directly.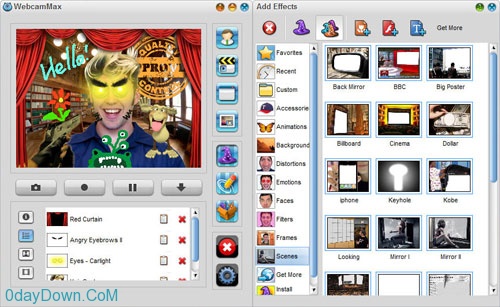 Features:
Thousands of cool effects for your live video chats and video recording. You can download limitless effects at webcammax.com
Record your fantastic videos show with our cool effects to broadcast on YouTube or webcammax.com
Share your video clips or desktop screen with family and friends through your Instant Messengers even without a real webcam.
Directly share your video with family or friends on youtube.com. You can also upload and show your cool videos and photos on webcammax.com.
Paint on the video box freely and directly. You can also broadcast different sources at the same time with Picture in Picture feature.
Work for almost all webcam programs such as Windows Live Messenger, Skype, Yahoo Messenger, ICQ, Paltalk, Camfrog, YouTube, Ustream, JustinTV, and much more.
Release Name: CoolwareMax.WebcamMax.v7.7.4.2.Incl.Keygen.and.Patch-Lz0
Size: 25.49 MB
Links: Homepage – NFO – NTi – TPB