苹果电脑公司在加利福尼亚推出了Aperture软件。这是首款集成的后期制作工具软件,可以满足摄影师拍摄后的一切后期制作要求。Aperture提供先进的、令人难以置信的快速RAW工作流程,可使用户在处理RAW照片文件时如同JPEG文件一样容易。Aperture拥有强大的对比和选择工具、非破坏性图像处理功能、色彩管理打印以及可定制的网络和图书发布功能,能够满足专业用户从最基本到专业级的要求。
HOTiSO with a new update for Apple Aperture, keep in mind this release only include the update and not the whole software. Enjoy.
Description:
Apple Aperture is designed from the ground up for professional photographers and provides everything you need for after the shoot, delivering the first all-in-one post-production tool for photographers.
Featuring a RAW-focused workflow, Aperture makes RAW as easy as JPEG, letting you import, edit, catalog, organize, retouch, publish, and archive your images more effectively and efficiently than ever before. From capture to output, you work directly with your RAW files, never having to first convert them into another format before viewing, adjusting, organizing, or printing them.
And with the most powerful image processing more…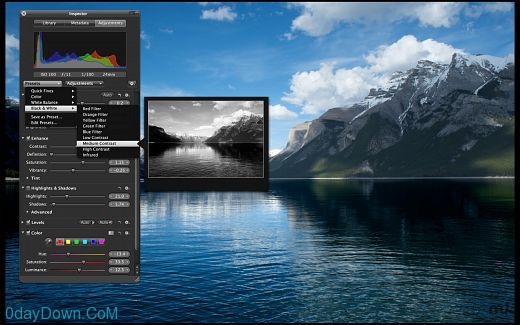 Version 3.4.4:
Bug fixes:
Addresses an issue that could cause Aperture to quit unexpectedly during image import
Nikon P7700 RAW images are now displayed correctly in the Import window
Thumbnails with version names longer than 250 characters are now displayed correctly
Fixes an issue that could cause multiple warning dialogs to appear when web albums are synced after waking from sleep
Addresses an issue that could cause Aperture to quit unexpectedly when uploading photos to Photo Stream
Shared Photo Stream invitation lists now scroll correctly
Includes stability and performance improvements
Release name: Aperture.V3.4.4.Update.MAC.OSX-HOTiSO
Size: 523MB in 39F
Links: Homepage – NFO