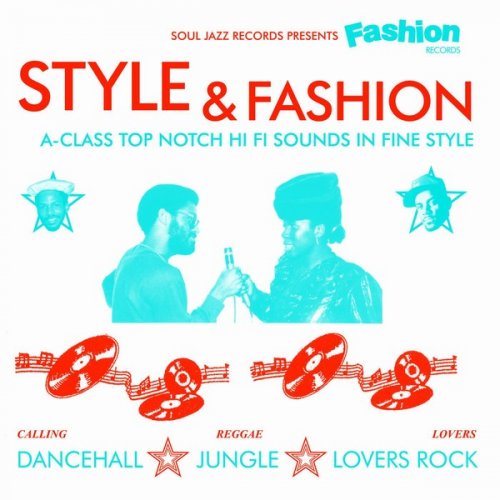 FLAC (tracks) | World, Reggae, Dub | 1:27:51 | 1CD | 486 Mb
Soul Jazz Records are proud to present this new collection of music from the great Fashion Records, one of the most important and iconic independent reggae labels to come out of the UK, running from 1980 for nearly 20 years.
In that time Fashion released hundreds of records that successfully reflected – and indeed set – the changing styles and perspectives of reggae music in the UK, from UK dancehall and lovers rock in the 1980s through to the mighty rise of jungle in the second half of the 1990s.
While nearly all other UK reggae labels focused on releasing Jamaican music, from the early days of Island and Trojan in the 1960s, through Island and Virgin in the 1970s and Greensleeves that came up in the 1980s, Fashion's focus was firmly on music produced in the UK. This unique British perspective shaped both lyrical content and musical fashion. And like all the great music labels, from Studio One to Blue Note, Fashion was able to create a significant roster of its own artists.
Tracklist:
01. Papa Face feat. Red Man – Dance Pon De Corner
02. Dee Dee Sharp – Let's Dub It Up
03. Cutty Ranks – Limb By Limb
04. General Levy – Mad Them
05. Laurel & Hardy – You're Nicked
06. Bunny General – Played By This Ya Sound
07. General Levy & Hard 'n' Pure – Wikkeda!!
08. Carlton Lewis – Small Talking
09. Poison Chang – Shot Fe Bust
10. Dee Dee Sharp – Rising To The Top
11. Papa Face & Keith Douglas – DJ Jamboree
12. General Levy – Heat
13. Carlton Lewis – Sweet Soul Rocking
14. Top Cat – Ruffest Gun Ark
15. Papa San – DJ Business
16. Papa Face & Bionic Rhona – To The Bump
17. Cutty Ranks – As You See It
18. Janice Walker – You'll Never Need Somebody
19. Asher Senator – Bubble With I
---
Download nitroflare
http://nitroflare.com/view/C7BADB54E5F71D3/0504Fashion-Records.rar
转载请注明:0daytown » VA – Soul Jazz Records Presents Fashion Records: Style & Fashion (2019) FLAC