Photoshop衣物面料褶皱制作视频教程,ConceptCookie Creating Realistic Wrinkles and Folding Fabric,大小:236 MB,MP4高清视频格式,附工程源文件,教程使用软件:Photoshop CS6,作者:Tim Von Rueden,语言:英语。
---
Welcome to this tutorial on Creating Realistic Wrinkles and Folding Fabric
In this course Tim Von Rueden takes you through the steps on creating realistic clothing wrinkles and folding fabric. In this three part series we first take a look at the basics and understanding how clothing and fabric works.

From there we look at a demonstration on creating realistic folding fabric and then taking all that weve learned previously and drawing a few examples of drawing clothing from that.
This tutorial is the direct result from being the number one requested tutorial from this months November Citizen Tutorial Request Month. If you would like to see a tutorial you have in mind to make the next weeks top tutorial vote on the poll HERE.
As a Citizen member you get access to the complete streaming course including all project files and the ability to download each individual video. The resources in this course include The final .PSD and each parts HD video. Also included are a collection of Photo References that focus on showing different articles of clothing on the male torso.
http://cgcookie.com/concept/cgc-courses/realisticwrinkles_foldingfabric/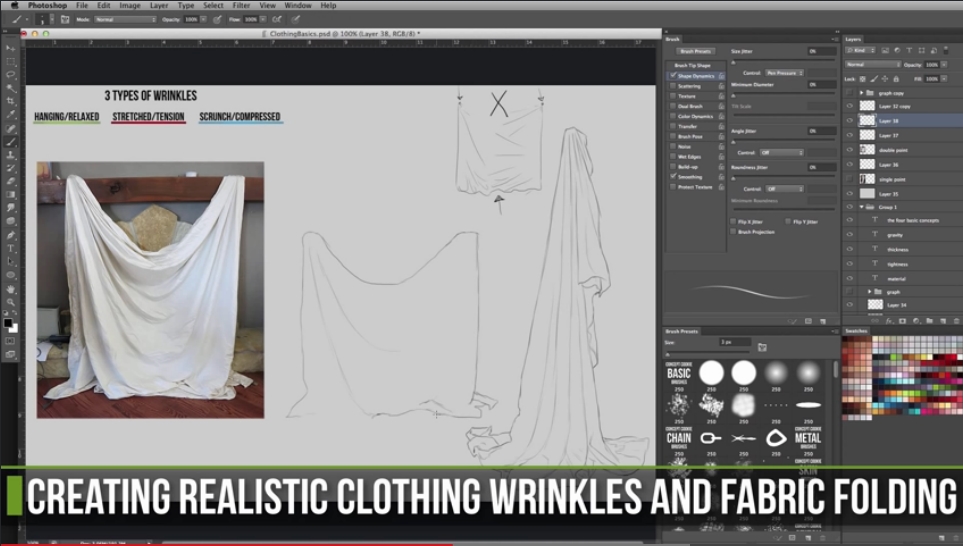 ---
Download uploaded
http://uploaded.net/file/uif29g0w/ConceptCookie.CreatingRealisticWrinklesFoldingFabric.part1.rar
http://uploaded.net/file/q6puxl3b/ConceptCookie.CreatingRealisticWrinklesFoldingFabric.part2.rar
http://uploaded.net/file/zqp9w3ib/ConceptCookie.CreatingRealisticWrinklesFoldingFabric.part3.rar
Download rapidgator
http://rg.to/file/68771fa1192bb80ff321be6733afae77/ConceptCookie.CreatingRealisticWrinklesFoldingFabric.part1.rar.html
http://rg.to/file/9f5f7de64578778b37481b2094feb84a/ConceptCookie.CreatingRealisticWrinklesFoldingFabric.part2.rar.html
http://rg.to/file/c3bc3f6f8008a9a26a08896ef119826a/ConceptCookie.CreatingRealisticWrinklesFoldingFabric.part3.rar.html
Download Firedrive and 百度云
转载请注明:0daytown » Concept Cookie – Creating Realistic Wrinkles and Folding Fabric