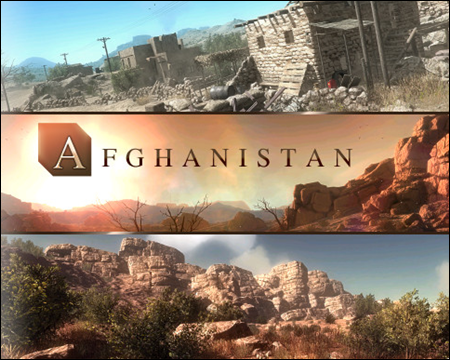 Afghanistan – Middle-East Environment v1.1
fbx | 3D models | 1.96 GB
需要Unity 4.2.0以上版本,包括了:传统景观 – 荒芜的村庄,绿洲,峡谷和山脉,被遗弃的军事基地等等。
Requires Unity 4.2.0 or higher.This package allows you to create traditional landscapes of the Middle East – deserted villages, oases, valleys and mountains, abandoned military bases.
Pack contains:
– 90 prefabs (224 – including LoD stages) – village elements, military base elements, trees, rocks etc.
– One big demo stage (three different atmospheric)
– 7 ready-to-use terrains
– particles, ground and grass textures
Almost all textures are at 2048×2048 resolution. The materials have normalmaps, in some cases, paralax shading.
---
Download uploaded
http://uploaded.net/file/iomfhagd/yen.3514.1.96-Unity-%26-Raw-3D-Afghanistan-Middle-East-Environment.part01.rar
http://uploaded.net/file/ykjcypta/yen.3514.1.96-Unity-%26-Raw-3D-Afghanistan-Middle-East-Environment.part02.rar
http://uploaded.net/file/g2avg5am/yen.3514.1.96-Unity-%26-Raw-3D-Afghanistan-Middle-East-Environment.part03.rar
http://uploaded.net/file/633cjumx/yen.3514.1.96-Unity-%26-Raw-3D-Afghanistan-Middle-East-Environment.part04.rar
http://uploaded.net/file/35qjoru8/yen.3514.1.96-Unity-%26-Raw-3D-Afghanistan-Middle-East-Environment.part05.rar
http://uploaded.net/file/v5m4lmza/yen.3514.1.96-Unity-%26-Raw-3D-Afghanistan-Middle-East-Environment.part06.rar
http://uploaded.net/file/96mtz9qq/yen.3514.1.96-Unity-%26-Raw-3D-Afghanistan-Middle-East-Environment.part07.rar
http://uploaded.net/file/edzberwe/yen.3514.1.96-Unity-%26-Raw-3D-Afghanistan-Middle-East-Environment.part08.rar
http://uploaded.net/file/ttsk1a03/yen.3514.1.96-Unity-%26-Raw-3D-Afghanistan-Middle-East-Environment.part09.rar
Download rapidgator
http://rg.to/file/38ef9a6af7b3a7995b00048fb2658667/yen.3514.1.96-Unity-&-Raw-3D-Afghanistan-Middle-East-Environment.part01.rar.html
http://rg.to/file/34c50c09a6cfbe1465a65c558786e661/yen.3514.1.96-Unity-&-Raw-3D-Afghanistan-Middle-East-Environment.part02.rar.html
http://rg.to/file/09081513f022ae8ed43453abf650f750/yen.3514.1.96-Unity-&-Raw-3D-Afghanistan-Middle-East-Environment.part03.rar.html
http://rg.to/file/339d1c20a28c2fd6f577bfd488225658/yen.3514.1.96-Unity-&-Raw-3D-Afghanistan-Middle-East-Environment.part04.rar.html
http://rg.to/file/b4467a8da85688e575627673e10f37b0/yen.3514.1.96-Unity-&-Raw-3D-Afghanistan-Middle-East-Environment.part05.rar.html
http://rg.to/file/fcb39fae6ab7855405093849277f58a5/yen.3514.1.96-Unity-&-Raw-3D-Afghanistan-Middle-East-Environment.part06.rar.html
http://rg.to/file/92f4c1f52741c3cfc099053c31e461da/yen.3514.1.96-Unity-&-Raw-3D-Afghanistan-Middle-East-Environment.part07.rar.html
http://rg.to/file/95b54c5e0b8ae31b8a38bb2cfb6d4ab0/yen.3514.1.96-Unity-&-Raw-3D-Afghanistan-Middle-East-Environment.part08.rar.html
http://rg.to/file/0fca8c4075bfa3b5bd6fdbe66b322f3f/yen.3514.1.96-Unity-&-Raw-3D-Afghanistan-Middle-East-Environment.part09.rar.html
Download Firedrive and 百度云
转载请注明:0daytown » Afghanistan – Middle-East Environment v1.1 | Unity中东环境模型