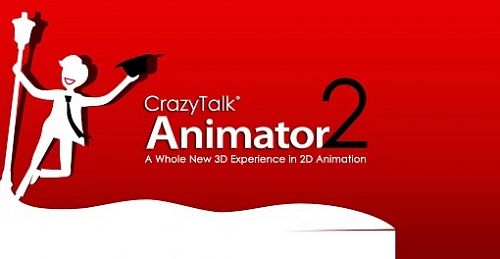 Animator 动画师提供了一个令人兴奋的新方法,传统的二维动画与创新的新工具,允许用户为3D动作应用到2D人物。新的强大的工具已经开放自由编辑二维运动,并从一个单一的点击任意角度观看他们新的可能性。结合功能性的功能,如脸部木偶和自动唇音同步,它已成为最有创意的工具,2D人物动画。
---
Crazytalk Animator v2.1.1624.1 Pipeline + Bonus Pack | 665 MB
CrazyTalk Animator provides an exciting new approach to traditional 2D animation with innovative new tools that allow users to apply 3D motions to 2D characters. New powerful tools have opened new possibilities for freely editing 2D motions and viewing them from any angle with a single click. Combined with functional features like facial puppet and auto lip-sync, it has become the most creative tool for 2D character animation.
CrazyTalk Animator 2 brings a whole new 3D experience to 2D animation! In this new version, we have taken a huge leap forward by elimintating planar, 2D restrictions and allowing designers to now use popular 3D motions on 2D characters. This has opened a new way for editing motions freely without single angle limitations. In addition, the brand new multi-dimensional character system maintains the mix-and-match creation power of CrazyTalk Animator, while delivering quick, render style options for instant visual alternatives. CrazyTalk Animator 2 is not just the next version; it is the kick-starter to a 3D motion revolution in 2D animation!
What's New in V2.1:
There are several goals we wished to achieve with this new main update. First, we have finally completed the Mac version for CrazyTalk Animator 2 and synced its release with version 2.1 release, so lots of Mac users will be happy about this. Second, we included the popular transparent PNG and AniGIF output, which can be easily exported by copy-and-paste. This greatly stirs up dynamic content usage for presentations, web design, emails and social activities in forums and instant messaging. Also, as promised Reallusion has brought back the highly-acclaimed motion blending and image masking features, and make them more powerful. Character designers can also find lots of new features to make G2 avatar creation process easier and faster. This new 2.1 update also includes numerous usability enhancements and performance improvements to make CrazyTalk Animator an awesome tool!
Instantly Copy-Paste PNG & Animated GIF
Enhanced Render Style Panel
Dynamic Text Bubbles
Empowered Motion Clip Blending
Enhancement Over Character Composer
Enhanced Mask Editor for Character and Prop Composer
Supports Windows 64-bit Version
Advanced Features in Pipeline Edition:
Create custom multi-dimension characters from scratch
Design characters and props compatible with 12 render styles
Design Templates and White Papers
Import any 3D motion via iMotion format
Connect with any 3D motion source
---
Download uploaded
http://uploaded.net/file/grwv70n7/CrazyTalk_Animator2_2.1.1624.1.part1.rar
http://uploaded.net/file/yrxurio5/CrazyTalk_Animator2_2.1.1624.1.part2.rar
http://uploaded.net/file/mvmakm2n/CrazyTalk_Animator2_2.1.1624.1.part3.rar
Download rapidgator
http://rg.to/file/31cb149a95c4323a516726cf2ec8e0b3/CrazyTalk_Animator2_2.1.1624.1.part1.rar.html
http://rg.to/file/dcc48c8681c28cff505cfde7c01c8ab9/CrazyTalk_Animator2_2.1.1624.1.part2.rar.html
http://rg.to/file/65786b6afc9fca644204814882389005/CrazyTalk_Animator2_2.1.1624.1.part3.rar.html
Download 城通网盘
http://www.t00y.com/file/63833459
http://www.t00y.com/file/63833460
http://www.t00y.com/file/63833461
Download firedrive and 百度云
你是VIP 1个月(1 month)赞助会员,

转载请注明:0daytown » Crazytalk Animator v2.1.1624.1 Pipeline + Bonus Pack