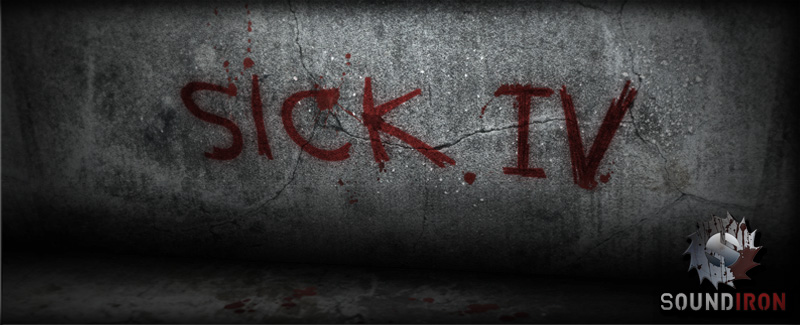 SoundIron Sick v4 KONTAKT | 1.42 Gb
Welcome to Sick Volume 4. This year's entry into our annual Sick series delves into the sound of macabre body mutilation and tardigrade torture. It painstakingly explores 35 unique deep sampled (12x RR) percussion articulations as well as over 1,000 horror sound effects. Weighing in at over 2 GB of premium sound design content, Sick 4 is ideal for both music and sound production: designed with horror in mind yet flexible and diverse enough to fit into any mix that calls for something a little off the beaten path.
To build this library, we gathered an army of pumpkins in all shapes and sizes and set about destroying them in a most brutal manner, with the help of hammers, crowbars, saws, drills, wrenches and our own meaty fists and heavy boots. We also pried a range of proto-musical elements from steel pails, swinging chains, dragging cinderblocks. Our goal was to craft a well-rounded and highly detailed horror foley collection suitable for the most discerning sound designer or scoring composer. But going beyond simple sound effects creation, we also brought out our drum sticks, fingers and mallets to create the most nuanced and playable pumpkin percussion library ever conceived. Finally, we included over 50 custom horror ambiences and soundscapes created from the source material and cutting edge control features, rack FX and otherworldy convolutions to complete the picture. 
If you're familiar with the rest of our Sick series, you know the deal. This library's sample content is designed to meet the needs and uncompromising standards of professional sound designers, rerecording mixers, film-makers, video game designers and post-production specialists. We've also expertly programmed and tailored every detail to fit seamlessly into your creative workflow. Sick 4 is perfect for adventurous composers and songwriters or anyone seeking fresh meat to feed their darker sonic urges.
Info
The library is programmed for Native Instruments Kontakt 5.1 and later and comes fully-equipped with a custom user interface that provides real-time automation control over note attack, sample start position offset, intensity swelling, release fade time, tuning and dual sonic layer blending. Each sound layer is fully independent and has its own control set so users can pitch, pan, swell and attenuate each one separately. Sick 4 also features our powerful integrated Uberpeggiator arpeggiation system which allows to total customization and full preset saving and loading. We also included our full FX Rack which has an integrated EQ, convolution reverb selector, compressor, distortion, delay and much more. All of the samples are also included as categorized and clearly named stereo wave files that can be imported and used in any wav-format compatible audio environment, sampler, editor, sequencer or other audio software you like.
Articulations 
• 35 Percussion Articulations each with 12x RR and up to 8 Velocity Layers
• Pumpkin (Hands, sticks, mallets & hammers)
• Metal Bucket (fingers, sides, sticks, etc)
• Bone Saws and hack saws
• Chain Impacts, Rattles, Yanks, Swings, etc
• Meat Power Drilling
• Hammer blows to the head
• Wrench blows to the head
• Flesh stabs, rips, scoops and slams 
• Tomb stone Drags and tumbles
• Wrench Drag
• 1300 detailed horror sound effects
• 1425 deep-sampled percussive sound effects
• 54 Hellish Ambiences and Soundscapes
• And Much More…
Specs
2,779 Samples (standard pcm wav)
11 .nki files K5.1+ (open format)
2.0 GB installed 
24 bit / 48kHz stereo PCM wav format
Format(s): Kontakt 5.1+ .nki and pcm .wav
SoundIron.Sick.v4.KONTAKT.MERRY.XMAS-SYNTHiC4TE
Home Page – http://www.soundiron.com/instruments/horror/sick-4/
---
 Download uploaded
http://uploaded.net/file/mt6djbph/syn-ssv4.part1.rar
http://uploaded.net/file/xxvubwx4/syn-ssv4.part2.rar
http://uploaded.net/file/5vrbnby3/syn-ssv4.part3.rar
http://uploaded.net/file/ejev7htn/syn-ssv4.part4.rar
http://uploaded.net/file/6e3o09ur/syn-ssv4.part5.rar
http://uploaded.net/file/bzpm7hgu/syn-ssv4.part6.rar
http://uploaded.net/file/axj28iur/syn-ssv4.part7.rar
http://uploaded.net/file/n7ewn2ni/syn-ssv4.part8.rar
Download filefactory
http://www.filefactory.com/file/4trtfazwrwbp/n/syn-ssv4.part1.rar
http://www.filefactory.com/file/4a2hhdp4nt4d/n/syn-ssv4.part2.rar
http://www.filefactory.com/file/2r9e85r0j23/n/syn-ssv4.part3.rar
http://www.filefactory.com/file/6gi14z7mjcxx/n/syn-ssv4.part4.rar
http://www.filefactory.com/file/1o6pijs6vph1/n/syn-ssv4.part5.rar
http://www.filefactory.com/file/444pfijp72gr/n/syn-ssv4.part6.rar
http://www.filefactory.com/file/3y3zn7t404b3/n/syn-ssv4.part7.rar
http://www.filefactory.com/file/5kdgxjw0269b/n/syn-ssv4.part8.rar
Download 百度云
转载请注明:0daytown » SoundIron Sick v4 KONTAKT